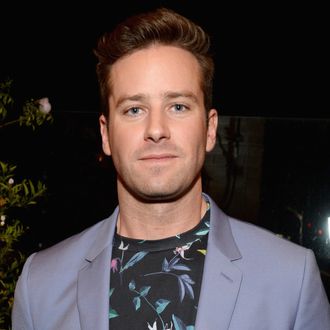 Armie Hammer.
Photo: Michael Kovac/Getty Images for Moet & Chandon
Gather 'round Hammer Heads, Armie Wives, and dads who think The Lone Ranger actually wasn't that bad: Armie Hammer has left the Call Me by Your Name fansite festering cesspool known as Twitter dot com. A day after BuzzFeed posted an analysis of Hammer's fluctuating celebrity — an account he described as "bitter AF" in a tweet response — Hammer has literally deleted his account. The Call Me by Your Name star stopped using his Twitter account earlier this fall, after a clip of him dancing in the movie made its way onto the internet. "When I dance," he told Vulture recently, "I think, You're really shit at this, and everyone around you knows it because you're the tallest guy on the dance floor and you stick out like a sore thumb." After that scene went viral, Hammer admitted to us he stayed off of Twitter out of embarrassment.
A simple Google search tells us that a eulogy includes "stories and memories." So, here are some memories: Armie Hammer once used his Twitter to troll sentient ghoul James Woods. Armie Hammer did not acknowledge, via Twitter, an incredibly well-reasoned appreciation of his sumptuous voice, which I happened to write. Armie Hammer once liked a bunch of tweets about ropes and bondage (and did not unlike those tweets about ropes and bondage once people noticed, which is honestly a very baller move!). RIP, Armie Hammer's Twitter: You were hella tight. We'll now be checking Armie Hammer's Instagram, which remains intact.