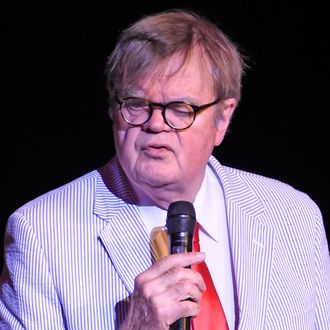 Photo: Stephen J. Cohen/Getty Images
This afternoon, Garrison Keillor's relationship with his longtime broadcasting home, Minnesota Public Radio, was terminated following allegations of inappropriate workplace behavior that occured during his run producing the show A Prairie Home Companion. MPR and American Public Media (APM) have announced that they will discontinue or rebrand programming connected to Keillor, severing all ties with the broadcaster. The company's statement reads as follows:
MPR will end its business relationships with Mr. Keillor's media companies effective immediately. By terminating the contracts, MPR and American Public Media (APM) will: 




* end distribution and broadcast of The Writer's Almanac and rebroadcasts of The Best of A Prairie Home Companion hosted by Garrison Keillor; 

* change the name of APM's weekly music and variety program hosted by Chris Thile; and, 

* separate from the Pretty Good Goods online catalog and the PrairieHome.org website.
MPR also explained its legal process leading up to the decision to walk away from Keillor. After the board's chair was informed, an oversight committee was formed and the company brought in an outside law firm to independently investigate the allegations. That investigation is still on-going, and MPR says it has not uncovered any similar allegations against Keillor by other staffers. "Over the last several weeks, the special Board Committee has worked closely with MPR President Jon McTaggart and legal counsel to review the facts as we know them and carefully consider the implications of the various options," said David Murphy, Chair of the MPR Board of Trustees, in MPR's statement. "The Board Committee concluded that terminating the Keillor relationships was the appropriate decision and the Board and Jon are aligned in this action."