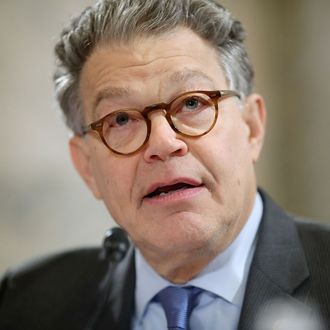 Franken.
Photo: Chip Somodevilla/Getty Images
Another woman has come forward to accuse Senator Al Franken of sexual assault. Stephanie Kemplin, an Army veteran, tells CNN that Franken groped her in 2003 during a USO tour in Kuwait. She claims that Franken cupped her breast during a photo op. She's the fifth woman to accuse Franken of misconduct, and the second woman whom Franken allegedly groped while on a USO tour. Radio host Leeann Tweeden previously shared a photo from 2006 of Franken touching her breasts over her clothes while she was asleep on a plane ride from the Middle East; she said the senator also forced her to kiss him in a sketch they would perform for the troops. Kemplin says she encountered Franken while serving in the Iraq War when he visited with the USO. She was a fan of the SNL alum and got in line to take a photo with him when he allegedly touched her inappropriately.
"When he put his arm around me, he groped my right breast. He kept his hand all the way over on my breast," she says. "And I remember thinking — is he going to move his hand? Was it an accident? Was he going to move his hand? He never moved his hand." Kemplin says she's sure it was intentional: "It was long enough that he should have known if it was an accident. I'm very confident saying that." The alleged incident was not captured in the photo that they took. Responding to the latest allegations, a spokesperson for Franken told CNN, "As Sen. Franken made clear this week, he takes thousands of photos and has met tens of thousands of people and he has never intentionally engaged in this kind of conduct. He remains fully committed to cooperating with the ethics investigation." Franken has said he will not step down as senator, but will face any Senate Ethics Committee investigation that is launched. The women staffers of Saturday Night Live have signed a letter in support of the former cast member turned politician.