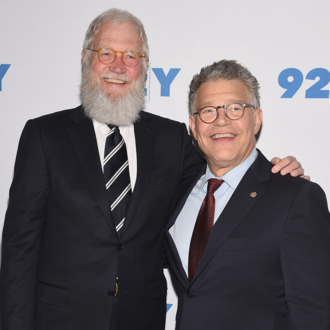 Following recent allegations of sexual misconduct, PBS has decided to cut Al Franken's appearance from its upcoming television special honoring David Letterman. A representative for PBS told Variety, "PBS and WETA, the producing station, felt that the inclusion of Senator Franken in the broadcast at this time would distract from the show's purpose as a celebration of American humor. Every year, this program is edited for both length and content to keep it entertaining and focused on its intended purpose as a celebration of American humor."
Franken, who was a comedian and a Saturday Night Live cast member before becoming the junior senator of Minnesota, was one of several high-profile celebrities who paid tribute to the former late-night host last month at the Kennedy Center in Washington, D.C. The special, The Kennedy Center Mark Twain Prize for American Humor Salutes David Letterman is set to air November 20 at 8 p.m.
Last week, radio host Leeann Tweeden accused Franken of groping and kissing her without her consent while on a USO tour in 2006. Tweeden detailed her experience and tweeted a picture of her sleeping while Franken had his hands on her breasts. Since Tweeden went public, Franken has apologized and welcomed an ethics investigation into the matter. Some fellow funny people, however, were not impressed: Seth Meyers and Stephen Colbert mocked his apology on their respective programs, and SNL offered its own verbal spanking on Weekend Update.