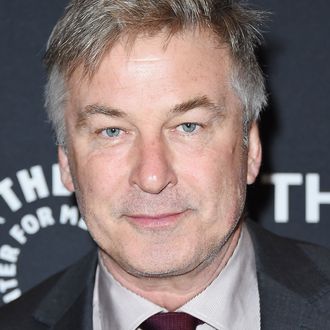 Photo: Michael Loccisano/Getty Images
Earlier this weekend, before he reprised his Donald Trump impression on SNL, Alec Baldwin announced he would be quitting Twitter for an undisclosed amount of time, owing to some widely criticized comments he made in regards to Harvey Weinstein and sexual assault. Specifically, during an interview with PBS News Hour, Baldwin was accused by many prominent women in Hollywood — such as Patricia Arquette and Asia Argento — of mansplaining the concept of sexual harassment, assault, and victim-blaming. "What happened was that Rose McGowan took a payment of $100,000 and settled her case with him, and it was for Rose McGowan to prosecute that case," Baldwin said in the interview, admitting he'd heard rumors about Weinstein's predatory behavior for decades. "When women take money and are silenced by that money, even though they took the money and were silenced because they were told, beyond the money, it was the right thing for them to do, keep quiet, don't make too many waves, it is going to hurt your career. When they do it nonetheless, does it set back the cause of change?"
Bombarded with an overwhelming amount of negative messages — especially because, a few days before, Baldwin admitted he had "bullied women" and "treated women in a very sexist way" in the past — Baldwin chose to shutter his personal Twitter page for awhile. "It is with some degree of sadness that I will suspend posting on this a Twitter account for a period of and in the current climate," he wrote among other tweets. "It was never my intention, in my public statements, to 'blame the victim' in the many sexual assault cases that have emerged recently … my goal is to do better in all things related to gender equality. Au revoir." Argento, who has been one of the many women to accuse Weinstein of rape, was pleased by this departure, and a war of words between Baldwin, Argento, and Argento's boyfriend, Anthony Bourdain, soon began.
But instead of posting from his personal Twitter account, Baldwin was sending messages from his foundation's social media page.
Baldwin then sent a since-deleted tweet to both Bourdain and Argento.
Who knows what Sunday will bring forth.