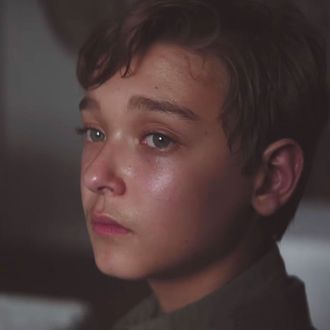 Photo: Vertical Entertainment
The new movie The Strange Ones is strung tighter than a piano wire. The high-tension drama from first-time feature directors Christopher Radcliff and Lauren Wolkstein follows a man named Nick (Alex Pettyfer) and a young boy named Sam (James Freedson-Jackson) as they set out on a very strange kind of road trip. To the strangers who ask, Nick is Sam's older brother, and the two are heading out for a camping trip together. But as we ride along with them in Nick's red station wagon, it becomes clear their adventure is not so serene as just exploring the great outdoors. Radcliff and Wolkstein intentionally left the most uncomfortable scenes in Strange Ones open to audience interpretation.
Freedson-Jackson made his feature-film debut in 2015's Cop Car, so he knows his way around a thriller, but during a conversation today at Vulture Festival Los Angeles, it sounded like the most challenging part of filming The Strange Ones was just getting over his nerves about meeting Alex Pettyfer. "It was horrifying!" Freedson-Jackson says of his first encounter with his co-star. "He's just an intimidating guy. You know, he's so confident." He did get some immediately comforting feedback from Pettyfer though. "I first met him and he said, 'Oh my God, it's Mini-Me! He looks like me!'" Freedson-Jackson said. "And I was like, 'Oh my God, I'm gonna be beautiful when I grow up! But he scared the crap out of me."
Freedson-Jackson eventually bonded with Pettyfer; they explored New York City together after their first meeting, and spent much of the low-budget production staying in dingy motels, road tripping from one shooting location to the next with the rest of the crew. And even if they didn't start out as equals in Freedson-Jackson's eyes, the young actor had to get over that during filming, when he gave Pettyfer a good hard slap to the face onscreen.