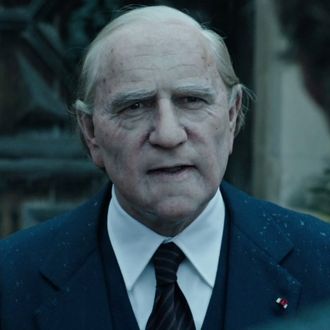 Kevin Spacey in
All the Money in the World
.
Photo: Sony Pictures
Sony has started to distance itself from its Ridley Scott–directed film All the Money in the World, starring Kevin Spacey, in the wake of multiple accusations against the actor for sexual harassment and sexual assault, including in relationships with minors. The company is pulling the movie, in which Spacey plays J. Paul Getty, from a premiere screening at AFI Fest, which runs from November 9 to 16. "All the Money in the World is a superb film and more than worthy of its place of honor in the AFI Fest," the studio said in a statement first reported by Deadline. "But given the current allegations surrounding one of its actors and out of respect for those impacted, it would be inappropriate to celebrate at a gala at this difficult time. Accordingly, the film will be withdrawn. However, a film is not the work of one person. There are over 800 other actors, writers, artists, craftspeople and crew who worked tirelessly and ethically on this film, some for years, including one of cinema's master directors. It would be a gross injustice to punish all of them for the wrongdoings of one supporting actor in the film."
Sony has reportedly nixed its awards campaign for Spacey, though the scheduled December 22 release date for All the Money in the World remains in place. The film also stars Michelle Williams and Mark Wahlberg and depicts the story of the kidnapping of Getty's grandson, which is also the subject of FX's upcoming series Trust.