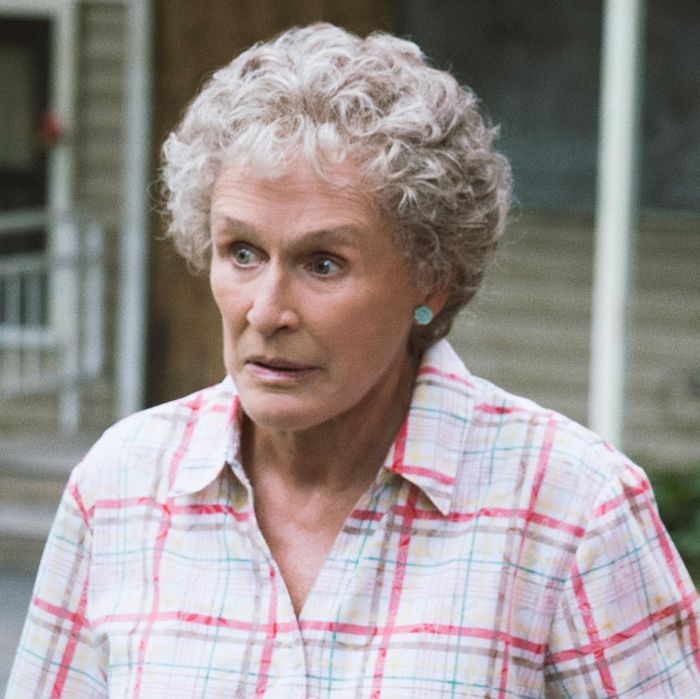 Photo: Patrick Harbron/Amazon Video
A trio of new Amazon pilots landed on the streaming service on Friday, and all three of them prominently feature women in front of the camera, behind it, or both. In keeping with Amazon tradition, viewers can vote for the pilots they would most like to see turned into a full series.
Given the recent shifts at Amazon — including a new emphasis on straight-to-series fare, an expressed desire to land the next Game of Thrones, and the resignation of Amazon Studios chief Roy Price in the wake of sexual-harassment allegations — it is more challenging than ever to determine what may happen with any of these three half-hour pilots presented for our consideration. Nevertheless, here's an assessment of each, along with a prediction as to whether or not it will be picked up.
Sea Oak
Revered writer George Saunders created this pilot, based on his New Yorker short story, which stars Glenn Close as Aunt Bernie, a soft-spoken woman who lets her two lazy nieces (Jane Levy and Rae Gray), their infants, and her slightly more motivated nephew (Jack Quaid) live with her in a subsidized housing community called Sea Oak. After an intruder breaks into their apartment, Bernie's fate — and the fate of her relatives — is suddenly changed. But before the episode ends, it's all changed again via a twist that only those who read Saunders's short story will see coming.
With Hiro Murai of Atlanta directing, Sea Oak immediately immerses the viewer in an environment where economic struggle is endemic to the climate. Much like that Donald Glover series, from the first frame, you feel transported to this place and invested in what's happening to the characters. Saunders's clever wit can play a bit more broadly onscreen than it does on the page, especially with regard to the nieces' almost sitcom-ish sense of self-involvement and ignorance. ("She's in a comma!" one of them shouts at one point, when she actually means "coma.") But it's hard to imagine Amazon not going forward with this one, given the involvement of talents like Saunders, Murai, and Close, who hasn't had a regular TV series role since Damages.
During a single, silent scene in which Bernie overhears her boss announcing that he plans to demote her from her job as a cashier (a role she sees as evidence that she's finally grasped a brass ring), Close's eager expression completely falls in an subtle emotional avalanche. Even when Bernie seems oblivious and too easily satisfied, Close hints at an undercurrent of pride in her that makes that aforementioned twist slightly — but only slightly — less of a total shock. I would watch more of Sea Oak to see where it goes after that late curveball, but mainly because I'm dying (cough) to see what Close does with this increasingly fascinating character.
Odds of an Amazon Pickup: Sea Oak seems like a lock for a full-series green light.
Love You More
This is another dramedy with some well-known names behind it. The pilot was co-written by Michael Patrick King of Sex and the City, Bobcat Goldthwait (who also directs), and comedian Bridget Everett, who stars as Karen, a woman who does all those things that flawed women on TV and in the movies tend to do. She drinks too much wine. She has sex with random guys, including a short gentleman early in the episode whose penis is practically taller than he is. She can be, as they say, shameless. But she also works full-time at a home for adults with Down syndrome, a job that reveals her enormous reserves of patience and compassion.
As that description implies, there are elements of Love You More that feel derivative of other works, from Amy Schumer's Trainwreck, a film in which Everett also appeared, to Crazy Ex-Girlfriend. A scene in which Karen struggles to find a sexy bra in her EE size inspires a fantasy musical number that encourages women to celebrate their breasts ("Put 'em up, put 'em up!") in a manner that can only be described as Rachel Bloom–esque.
I'm more intrigued by the range that Everett demonstrates in the pilot, particularly in its more dramatic spots. She has a gift for playing tender moments with authenticity, suggesting that Love You More would potentially steer into fresher and resonant terrain. If this becomes a series, it also could serve as a comeback vehicle for Loni Anderson, who plays Karen's lonely, determined-to-stay-young roommate Jean with an understated melancholy that suggests layers worth unpeeling.
Odds of an Amazon Pickup: Pretty strong.
The Climb
For obvious reasons, Amazon doesn't program its shows the way the broadcast networks do. But if it did, Love You More would be a natural series to pair with The Climb, created by and starring Diarra Kilpatrick of the web series American Koko.
In some ways, The Climb feels like Amazon's answer to Insecure. Kilpatrick plays Nia, a woman unsatisfied with her telemarketing job and dreaming of forging a social-media persona akin to her idol, the clearly Kim Kardashian–inspired Copper Lewinsky. Like Issa on Insecure, Nia has a BFF with whom she commiserates about everything. (That would be Misty, played by Alysha Umphress). She frequently talks to herself in the mirror. And her fantasies about life tend to collide pretty violently with actual reality.
Kilpatrick is an assured screen presence and the pilot, set in Detroit, has promise. But given the arc of its story, it also feels like a short film that could stand on its own without needing multiple episodes as a follow-up. For now, it's hard to judge whether this really has longer-form potential. Given Amazon's seeming desire to lock down more obviously surefire hits, I could see them passing on this. On the other hand, Kilpatrick has a voice they may be wise to nurture, especially if The Climb evolves into a show as rich and observant as Insecure is.
Odds of an Amazon Pickup: It's a toss-up.