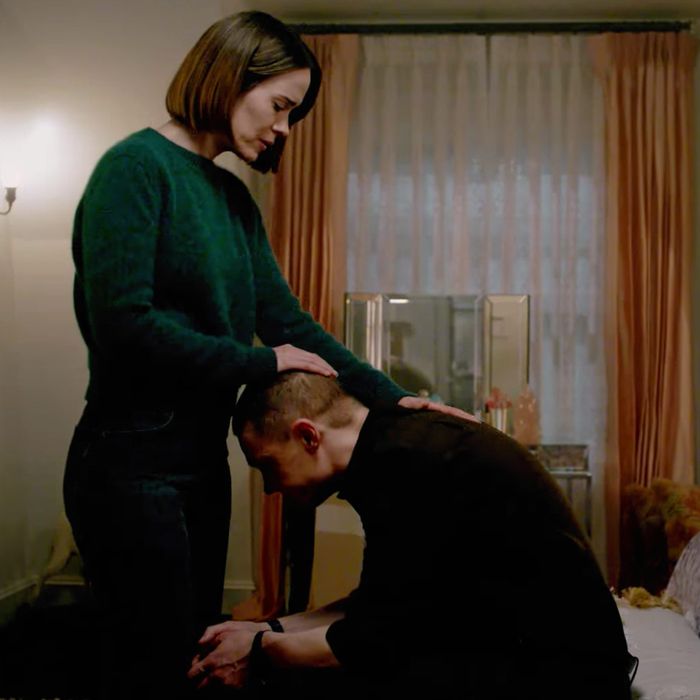 American Horror Story: Cult started as a dark, satirical, horror-infused vision of American politics and society, and ended as an elaborate female revenge fantasy in which a woman finally gets to win a big election. Like many rounds of the FX anthology series, it was shocking, ludicrous, and undeniably compelling at first, then started to lose a ton of its threads before it was even halfway finished sewing its narrative. A season of television designed to comment on the election of Donald Trump ultimately unfolded like one of Trump's own sentences: It started off with a point, then went in a bunch of different directions, before it ended, leaving those still paying attention to wonder, "What the hell was that supposed to mean?"
Okay, so it isn't that challenging to figure out what Cult means in light of its finale, cheekily titled "Great Again." Tuesday night's episode confirms that Ally was the mole informing the FBI about Kai's violent plans, resulting in his arrest. Ally becomes an even more revered national figure than Kai did after being shot, leading her to run for Senate and prompting Kai and his cronies to break out of prison. A climactic showdown between Kai and Ally in the middle of a key debate between her and Herbert Jackson, the man who could have been Kai's Senate opponent, reveals another twist: Ally had another mole — a seemingly easily manipulated prison guard — keeping tabs on Kai and lured him to the debate just in time for Adina Porter's Beverly Hope (the audacity of Hope!) to shoot him.
All of this enables Ally to deliver the blistering comeuppance: "There is something more dangerous in this world than a humiliated man — a nasty woman." Paulson slathers the exact right amount of sauce on the line, so much so that, in retrospect, it feels like we should have seen this conclusion coming, along with the final reveal, in which Ally, having won her election, assumes the green hood once worn by Bebe Babbitt. The implication: She's become the head of a more feminist cult of her own.
In the end, Cult, which was clearly aimed at an anti-Trump audience, gave its people what they want: a pseudo-rewrite of Election Night 2016, in which the female candidate emerges victorious. Even the way that Ally handles Sen. Jackson during the debate — "You can't intimidate me," she shouts at him at one point, "I am tired of being mansplained to" — is a way of realizing the unfulfilled debate fantasy in which Hillary Clinton actually turned around and told the looming, bullying Trump to shove it.
At the same time, this conclusion suggests that even a progressive "snowflake" of a female candidate can slide to the dark side, becoming the equivalent of someone who stands in the middle of Fifth Avenue and shoots somebody but still doesn't lose any votes. The upshot of what Cult has to say about American politics seems to be that, while Trump and the Kai-style followers he emboldened are horrible for the country, the whole system is out of order. Given the scope of the subject matter that this season has addressed in ways large and small — immigration, misogyny, white supremacy, the inadequacy of mainstream media, women's rights, environmental issues, toxic masculinity, not to mention the election itself — I was hoping for something more substantive and surprising than that.
It was bold for American Horror Story to take on the aftermath of the election less than a year later, especially when the country is still struggling to return to some sense of stability. One of the most fascinating and sobering things about watching this season has been the ways in which real life has freakishly dovetailed with the events on the show. Sadly, mass shootings are a fairly regular occurrence in this country. But I doubt the writers imagined ahead of time that the "Mid-Western Assassin" episode would air in the immediate aftermath of the worst mass shooting in American history, and have to be edited for broadcast because of it. "Charles (Manson) in Charge," the penultimate episode, reveals that Kai was originally recruited by Bebe Babbitt (Frances Conroy) to stoke female rage and upset the American patriarchy, an idea that didn't sound so foolish on November 7, when that episode aired and elections in Virginia and New Jersey led to a number of women assuming public office for the first time. Those little coincidences gave Cult the occasional potency of a series very much in step with the culture.
But too often, the show felt disjointed and distracted by digressions that didn't add much to our understanding of what was happening with Kai, Ally, Winter, Ivy, or any of the other characters. I'm sure it was fun for Evan Peters to play practically every notable cult leader from the past 50 years, and for Lena Dunham to take on the role of Valerie Solanas. But I'm not convinced Cult needed to spend so much time recounting the gory details of the attempt on Andy Warhol's life or the Manson family murders.
There were other lingering dots that didn't quite connect, too. What was the point of resurrecting Twisty the Clown from AHS: Freak Show? How did Kai manage to get arrested, put on probation, and sent to anger-management therapy in the span of only two weeks? Did Kai ever really have a clear platform, other than being anti-women and pro-himself? The answer to that last one is no, and I get why: The lack of a cohesive message aside from negativity mirrored the same deficiency in Trump's campaign, while reflecting Kai's confusion about how to meet his own goals while seemingly doing Bebe's bidding. It still made Cult more muddled during its middle portion than it should have been.
There were still strong moments in this season, though. The performances, as per usual, were on-point, with Paulson and Peters showing particularly fierce commitment to their bonkers roles. There were some genuinely funny moments, especially early on in this season. (The sight of Billy Eichner popping up at Ivy and Ally's house during a blackout and shouting, "Lesbians, we're under attack!" still makes me laugh.) And even though it can often be its worst enemy, part of me still weirdly admires American Horror Story for its insistence on taking everything too far.
But that doesn't change the fact that American Horror Story: Cult ultimately feels like a missed opportunity. During the past year and in the months ahead, plenty of TV has and will address the insanity of the Trump era. But Cult was one of the earliest scripted shows to do it both directly and indirectly at once, in a way that initially seemed like a savvy use of the horror genre as an outlet for processing current events. But in the end, Cult told us too many things we already knew, then concluded, leaving us to continue living in our real-life American horror story, where the unmasked clowns are still running the circus.