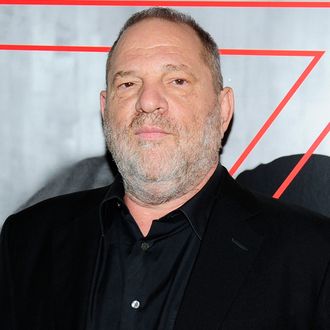 Weinstein.
Photo: Paul Bruinooge/Patrick McMullan via Getty Image
While the statute of limitations may have passed for some of the sexual-assault crimes Harvey Weinstein is accused of, a few are still able to be opened up to investigation. In news first reported by TMZ and confirmed by court documents obtained by People, an unnamed actress is suing Weinstein for allegedly raping her at a Beverly Hills hotel in 2016. According to the documents, the actress first met Weinstein 2011, at which time he offered to help her with her career, and the two "maintained regular communication … every few months thereafter." Four years later, the anonymous woman says her first troubling encounter happened with Weinstein in 2015, when she met up with him to discuss a part on the show Marco Polo. During that meeting she alleges that he restrained her and forcibly masturbated in front of her.
The rape, she claims, took place the next year when they met up once again, this time at a Montage hotel, to "celebrate her upcoming role" in Marco Polo. (She never received a part in the show.) Once they were together, she says Weinstein left the room before returning in a bathrobe and then threw her onto a bed, pulled off her jeans, and forced oral sex on her. After she pushed his head away he applied his "massive weight and strength" to keep her down while vaginally raping her. After the alleged incident, the woman says Weinstein contacted her and "and acted as if nothing had happened," and she admonished him before hanging up the phone.
Update: A representative for Weinstein provided a statement to People in response to this latest accusation of assault. "Any allegations of non-consensual sex are unequivocally denied by Mr. Weinstein," said the rep. "Mr. Weinstein has further confirmed that there were never any acts of retaliation against any women for refusing his advances. Mr. Weinstein obviously can't speak to anonymous allegations, but with respect to any women who have made allegations on the record, Mr. Weinstein believes that all of these relationships were consensual."
This post has been updated throughout.