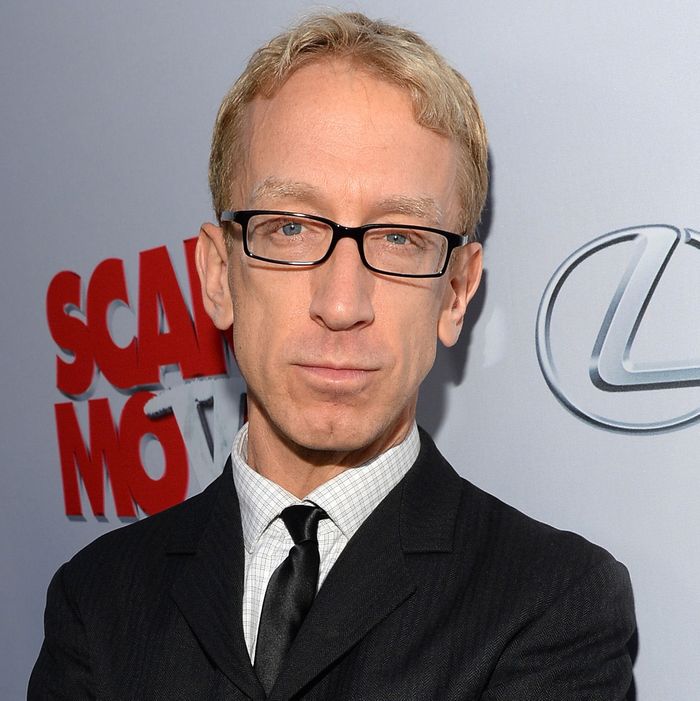 Dick.
Photo: Michael Buckner/Getty Images
On Tuesday, it was reported that Andy Dick was recently dropped from an indie film following allegations of sexual harassment and misconduct. Vulture has since learned that the comedian was fired in mid-October from a separate film for sexually assaulting a crew member, multiple accusations of sexual harassment, and appearing intoxicated.
Vampire Dad director Frankie Ingrassia and the film's producer, Jed Rhein, confirm to Vulture that Dick was let go from the film on October 18. Two additional sources involved with the production, an actor and a PA, tell Vulture that Dick was fired for grabbing a male sound operator's genitals while he was being mic'd up on the first day of shooting in North Hollywood. "He was kissing and biting his neck," says the PA, who witnessed the alleged incident. Rhein, who received three reports of Dick's misconduct, says he personally removed Dick from the set immediately after being informed of the alleged groping. Dick's contract was subsequently terminated; an internal investigation into the allegations is now ongoing, but police are not currently involved. Representatives for Dick declined Vulture's multiple requests for comment on these allegations.
Dick is also described as being repeatedly inappropriate with the majority-female crew. "I saw him being very gross with a lot of women," the actor says. "He systematically went woman by woman and just said a bunch of gross things almost mechanically, robotically, and made every single one of them uncomfortable." Ingrassia did not witness this alleged behavior, but says she was notified of his "extremely graphic comments." The actor witnessed Dick sexually harassing production assistants and "any young women there … He'd just launch into it so quickly: 'Hey what's your name? Oh, you got a boyfriend? I bet he's got a real gross, gnarled dick and I've got a great dick. You should get with me,'" the actor says. "She would get uncomfortable and leave and then he'd call another girl over and do the same thing." Dick allegedly sexually harassed a young female crew member to the point of tears, the PA says. That PA also witnessed Dick praising Harvey Weinstein on set, calling the disgraced producer his "hero." (Dick has made four Weinstein films: 2005's Hoodwinked, 2006's The Reef: Shark Bait, 2011's Hoodwinked Too, and 2012's The Reef 2.) Everyone that Vulture interviewed claim that Dick often appeared intoxicated to the point of belligerence and falling asleep. Rhein confirms that Dick requested liquor on set or he "refused to go to work."
"We're talking about a man who clearly is sick. I've seen sexual predators in my life and this is something different," Ingrassia says. "He's a mess right now. There was not a shred of alertness. He's very ill. That man was literally not conscious." Dick told The Hollywood Reporter that while on the set of the previous film he was fired from, he "took took many Xanax and I was a bit loopy," but claimed to be sober and have a sober companion on that set.
Following the alleged groping incident, Ingrassia says she was alerted by her first AD that Dick needed to be removed from set. According to Rhein, only he and the film's producer/writer Kathryn M. Moseley had the authority to fire Dick. They enforced the film's zero-tolerance policy immediately. "As soon as I told him in an expletive to get up and leave, I remember him saying, 'Oh, I'm done?'" Rheid says. "And I said, 'Yeah you're done. Get up, get out.' He kind of just sauntered and staggered a little bit and just walked out the front door in his wardrobe." The next day, an attorney was brought in and the crew and cast were notified that they could report any complaints against Dick to the film's lawyers. Rhein says no further allegations have been made at this time.
According to Ingrassia, Dick was to play a "depressed, sad misfit monster" in the film, her feature directorial debut, and that he was hired with the understanding that he was sober. Initially, she says, he appeared that way. "When we brought him in to do the first scene, he was really funny and talented," she recalls. "His performance on camera made us think he was okay, but the minute we yelled cut, apparently his behavior to some of the crew members was extremely off-color." Ingrassia says she would not have put her team, which boasted a 70 percent female crew, at risk had she known Dick might act inappropriately, adding, "This is not the way I wanted my first feature to go down."