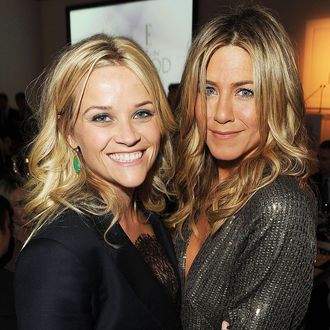 Photo: Jason Merritt/Getty Images
The moment I wake up, before I put on my makeup — I say a little prayer for the Reese Witherspoon and Jennifer Aniston morning news drama, which we all desperately need. The untitled show, which will pull background info from Brian Stelter's book Top of the Morning, has gotten a two-series, 20-episode order from Apple, according to The Hollywood Reporter. Aniston and Witherspoon will star in and executive-produce the show, based on an original concept by executive producer Michael Ellenberg (The Leftovers). Long live Jennifer Aniston, TV queen: This show, about the lives of the sleep-deprived people who make our morning news shows happen, will be Aniston's first series-regular role since Friends.
A number of networks were in the bidding war for the series, according to THR, including Showtime. This is Apple's second straight-to-series order, after Steven Spielberg's Amazing Stories anthology. You know what they say: An Apple deal a day keeps Reese Witherspoon on TV, which is all we can really ask for.