Armie Hammer is six-foot-five, a general advantage in life but one that doesn't serve him well on the dance floor. "When I dance," he told me recently over lunch in West Hollywood, "I think, You're really shit at this, and everyone around you knows it because you're the tallest guy on the dance floor and you stick out like a sore thumb."
You can imagine Hammer's embarrassment, then, when he had to shoot a dance scene for his new movie, the 1980s-set gay romance Call Me by Your Name. It's a pivotal moment in the film that comes not long after his character, grad student Oliver, has arrived in a small Italian village to assist the professor father of our protagonist, 17-year-old Elio (Timothée Chalamet). The secret crush on this interloper that Elio nurses becomes full blown the night he watches Oliver boogie down to "Love My Way," by the Psychedelic Furs: Oliver's ecstatic, unabashed, and utterly indifferent to the world around him. "And that's so not me, in any situation," said Hammer. "I was like, 'This is hell. Can we switch this for more nude scenes, please?' "
It wasn't easy, but Hammer finally shed his inhibitions. His moves are just the slightest bit dorky, yet his character's confidence is irresistible. Just don't expect Hammer to echo Oliver's carefree attitude: Ever since a clip of the scene went viral in October, the actor has gone dark on social media. "Anytime I would open up my Twitter, it was just a ton of that," Hammer said with a laugh, referring to the clip, "and I was like, 'Nope, I can't have my nose rubbed in this anymore. I'm out!' "
In person, the 31-year-old Hammer is almost implausibly self-effacing. When I told him that I liked his 2015 caper movie The Man From U.N.C.L.E. and how it was too bad it didn't do better at the box office, Hammer seized the opportunity to quip at his own expense: "That might be the Armie Hammer effect." It's true that since Hammer had his breakthrough dual role as the Winklevoss twins in David Fincher's The Social Network, his follow-up projects — he played the charming prince in Mirror Mirror and the title role in The Lone Ranger — haven't quite panned out. The irony is that The Social Network was supposed to launch him toward bigger movies, but none of his would-be franchise-starters managed to outgross that film domestically, and they left Hammer increasingly dissatisfied. "All of a sudden, I realized I was being shoehorned into something that was different than what I expected or wanted out of this business," he said. "When you're sitting in an acting class when you're young, they tell you about the ideal experience on a project, where you work on a movie that challenges you and draws something out of you. But you don't get that on big movies."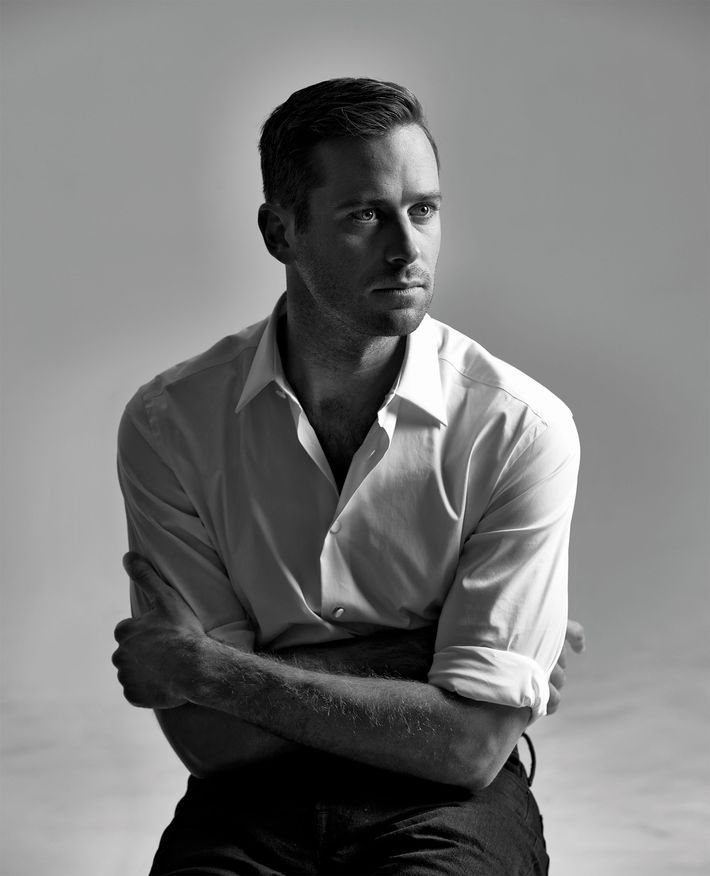 So Hammer retrenched, working mainly in independent films like Nocturnal Animals and Birth of a Nation. Then director Luca Guadagnino sent Hammer the script for Call Me by Your Name. The offer was to play Oliver, whom the other characters call "la muvi star," a term that is meant both as praise and as a pejorative. In an attempt to dispel his crush, Elio initially dismisses Oliver as a shallow American hunk: He's afraid to look closer, and isn't it easier not to? Guadagnino, though, was determined to go deeper with Hammer than any of his directors had. "I think Armie's a very complex person," said the Italian director, who also made I Am Love and A Bigger Splash. "It's not just that he's beautiful-looking. It's that, plus his inner turmoil, that is fascinating to me."
"Inner turmoil" is not the primary thing people think of when presented with Armie Hammer, who spent his formative years living in the laid-back Cayman Islands and is the great-grandson of a famous oil tycoon. But the self-effacement I had been initially skeptical of is something that comes to Hammer naturally: He is used to being looked at but not really seen, which makes him nervous about revealing an unvarnished side. "There are a lot of things about Oliver that resonated with me, and primarily it was that projection of ease and casualness and comfort that you might not actually be feeling all the time," said Hammer. "My whole life, I'm bluffing my way through it all. And Luca was just like, 'Nope, that doesn't work around here' — which was terrifying."
Hammer is married to TV host Elizabeth Chambers and has two young children, but when production on Call Me by Your Name began in the summer of last year, he left his family behind to move to the Lombardy town of Crema in order to immerse himself in the film's world. He and Chalamet were two of the few English-speakers for miles and grew to depend on each other as a result, but his bond was even more intense with Guadagnino, who continually challenged Hammer to drop his defenses in a way he never had onscreen.
"I've never had such an emotional journey with a director," said Hammer. "I've never even considered directors to be emotional people! I don't even know if I've worked with a director who even cared if I was mad at them before. It was more like, 'Shut up and stand on your mark and do your job.' "
As Call Me by Your Name goes on, Oliver is willing to reveal more parts of himself to Elio, who becomes his lover. But even before that moment, as with the dance scene, Guadagnino and Hammer searched for opportunities to dig deeper. The André Aciman book that Call Me by Your Name is based on tells the story from the point of view of Elio, who is enchanted with Oliver's seemingly effortless confidence. Hammer, though, thought much of his character's personality was performative, a well-practiced routine of smoke and mirrors. Even Oliver's insouciant habit of ducking out of every scene with a breezy "Later!" had emotional underpinnings: "It's about getting spooked by this human you're infatuated with," explained Hammer.
Eventually, Hammer himself became spooked, having plunged into Guadagnino's process so deeply. "The feeling of operating from that place of passion is really contagious and soul-satiating," he said. "It's the safest place I've ever been in my life — still to this day — when it comes to feeling complete empathy, complete understanding, and complete love, no matter what. But then … he knows if you're lying. He knows if you're not being honest, whether in real life or in the performance. And he will not back off."
As the production neared its end, Hammer admits, he became peevish and started to withdraw. "For reasons that could be personal to Armie, I had the feeling that he was pulling away," said Guadagnino. "The movie wasn't finished, and I had to bring him back." I asked Hammer what had made him behave like that. "Everybody was sort of lashing out because this thing was ending and nobody wanted it to," he said. He hesitated, wary of what to reveal. "Honestly," Hammer said, "I think I had fallen in love with Luca."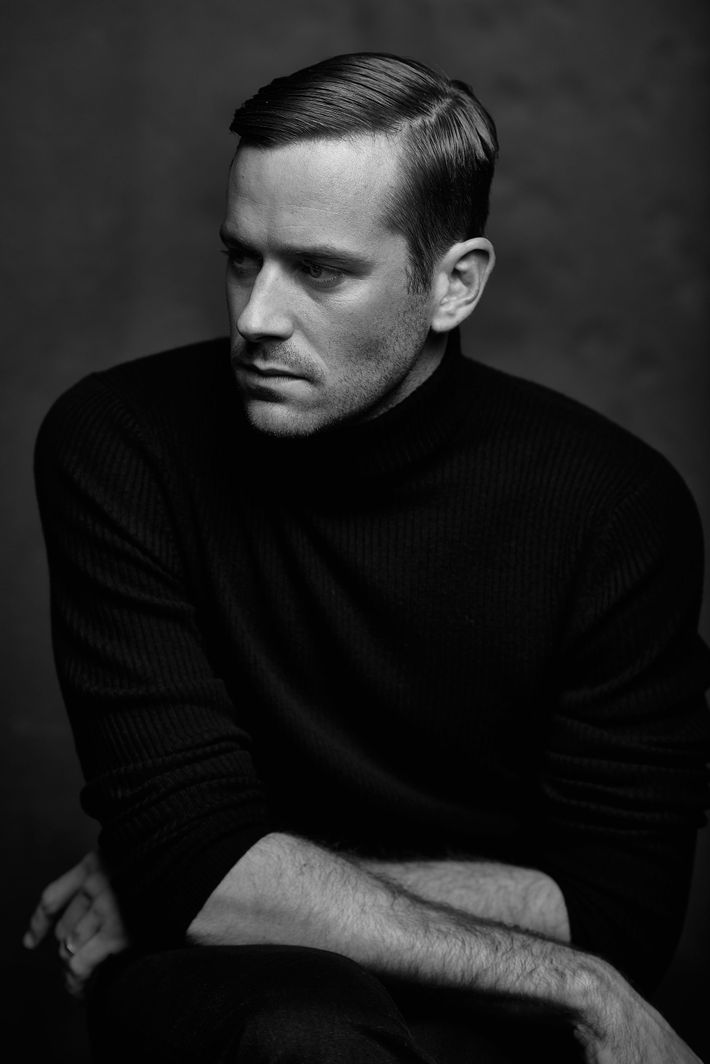 "For me to make a movie, it's really creating a family," said Guadagnino. "Having a very profound familial bond with the people I'm doing the movies with, where you literally and constantly fall in love with all of them. Sometimes, this emotional flow can be very intense. Very! As it was with Armie. And then it can be very complicated."
Hammer had flourished as an actor and as a person under Guadagnino's guidance and he couldn't bear to let the project go. Eventually, he would have to, and so would Guadagnino, who was slated to begin his next film, a remake of the horror film Suspiria. Hammer said he became jealous once he felt Guadagnino mentally move on to that film. "I was like, 'You fucking philanderer! You duplicitous bastard!' And that made me pull away, and then he did, and it turned into this whole thing."
"That was not my explanation for it," said Guadagnino. "I never, never put Suspiria in front of Call Me by Your Name." Still, he understood Hammer's passion and reciprocated it. "It's beautiful when you fall in love with someone and you are restrained in your exploration of that feeling and you sublimate it in making a movie like that," said Guadagnino, who eventually called Hammer to his apartment to hash out his feelings.
"He basically nailed me, nailed me, nailed me," said Hammer. "And I was pretending: 'No, man, that's not it at all.' Like, I couldn't even be honest about that."
Hammer recommitted himself to the role, and he remembers the mixed feelings he had on his final day of filming. "It was such a powerful experience that in a way, I was thinking, I'm relieved that it's gonna get mellower," said Hammer. "But also, I thought, I could do this forever."
Though he has recently been shooting the Ruth Bader Ginsburg biopic On the Basis of Sex in Montreal, Call Me by Your Name has not been far from Hammer's mind. For one thing, it changed how he approached his career. "Now they'll be hard-pressed to make me do something I don't feel passionate about," Hammer said. "To be perfectly honest, for as much as people really seem to enjoy the movie, it pales so much in comparison to the actual process of making it. Other people didn't get that experience. I did. Watching it feels like reading CliffsNotes of an amazing book. I was there every day, all day, living this thing, so now when I watch it for two hours, it's just too quick. I wish I could go back to that place."
He has, in some ways. He flew back to Italy recently "just to be in Luca's apartment and have conversations again." And he also taped the Call Me by Your Name audiobook, an experience that "felt like I got to go back to Crema," Hammer said. "We read it for 20-something hours, but it was just the best 20-something hours of the last couple months, apart from spending time with my family and kids."
Hammer's performance as Oliver is so indelible that, at first, it's difficult to imagine him inhabiting neurotic, love-struck Elio for the audiobook. However, the more you listen as Hammer wistfully describes his time on Call Me by Your Name — a transformative experience he will spend the rest of his life attempting to recapture — the more you realize it's exactly how one might reminisce about a lover long gone. Hammer may play Oliver onscreen, but at heart, he is a secret Elio. "That's exactly what it feels like!" he admitted. "And I'm still in love."
Top image: Turtleneck by Theory; jeans by Tom Ford.
Styling by David Thomas at The Wall Group; grooming by KC Fee using Tom Ford for Men and Oribe at The Wall Group.
*This article appears in the November 13, 2017, issue of New York Magazine.