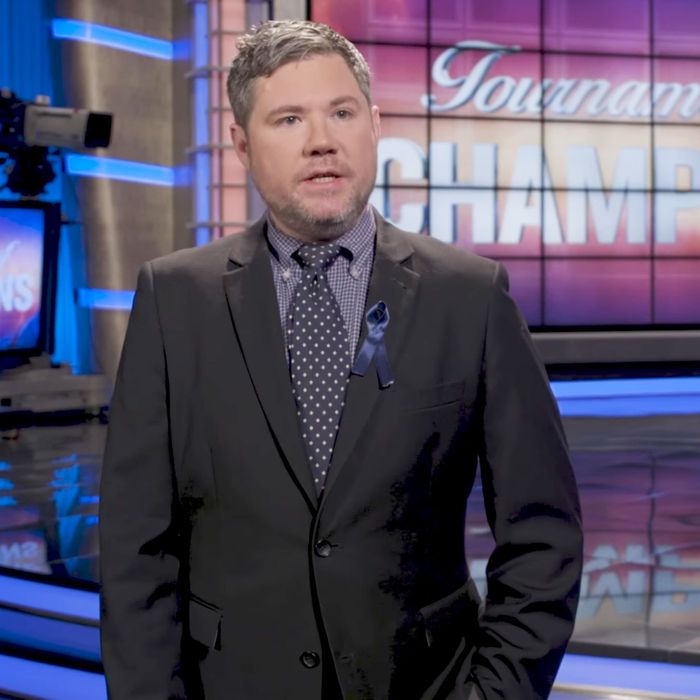 You win some, you lose some, and sometimes you lose some and still walk away with a hearty $50,000. Austin Rogers — that delightful New York City bartender who captivated the nation with his astute Jeopardy! gameplay and goofiness earlier this fall — managed to do just that on Friday evening when he came in third place at the conclusion of the game show's famed Tournament of Champions, ultimately losing to his fellow competitors Alan Lin and Buzzy Cohen. This battle royale of knowledge was a surprisingly upbeat affair over the course of two weeks, with noted stern Canadian Alex Trebek even getting in on the fun numerous times. To commemorate the final time we'll see Rogers grace Jeopardy!'s signature blue screens, we've compiled a GIF recap of his most memorable ToC moments.
The Quarterfinals
Rogers started not with a balloon animal or a conductor pantomime, but with subdued facial expressions. Must be old hat to him now.
Make way for the signature Final Jeopardy! celebration.
And, yes, obviously Trebek gave him a check at the end of the show.
The Semifinals
Rogers adds "pretends to be sleeping" to his pantomime repertoire.
How exactly will he spend his winnings? A car trip across the whole world, which he attempts to map out with his right hand.
Trebek thinks it's pretty funny. (The hand stuff, that is.)
Yup, he knows the Final Jeopardy! answer.
The Finals, Day 1
The group dedication here is really something …
… as is Alex Trebek's equally dedicated response.
"Slugs?!"
The Finals, Day 2
One last group intro to tell the grandkids about.