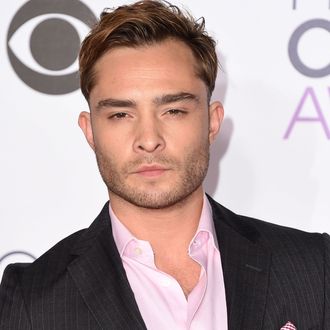 Westwick.
Photo: ANGELA WEISS/AFP/Getty Images
After two actresses accused Ed Westwick of rape, the BBC has pulled an upcoming Agatha Christie holiday special, called Order by Innocence and featuring the actor, from its schedule, according to the Wrap. The three-part adaptation starred Bill Nighy and Matthew Goode, with Westwick in a supporting role. In a statement the BBC said they will not schedule the show until inquiries into the actor are resolved. Westwick has also "paused" filming his comedy White Gold, which began filming its second season in October. Here's the statement from BBC:
These are serious allegations which Ed Westwick has strenuously denied. The BBC is not making any judgement but until these matters are resolved we will not include 'Ordeal by Innocence' in the schedules. The independent production company making 'White Gold' has informed us that Ed Westwick has paused from filming while he deals with these allegations.
Westwick has denied rape accusations brought by actresses Kristina Cohen and Aurélie Wynn. He is currently under investigation by the LAPD based on Cohen's accusation.