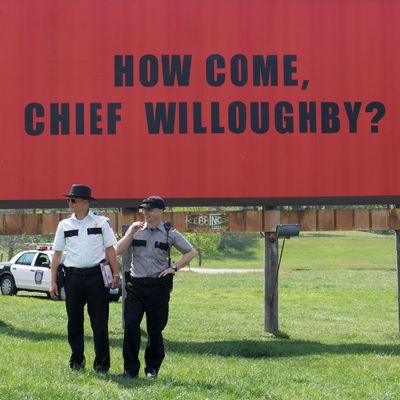 Photo: Fox Searchlight Pictures.
If the signage in a movie has top billing over Frances McDormand — as it does in Martin McDonagh's Three Billboards Outside Ebbing, Missouri — you can bet a whole lot of thought went into its conception and execution. On a sleepy Ozark mountain back road, enraged and grieving mother Mildred Hughes (McDormand) puts police chief Bill Willoughby (Woody Harrelson) on blast with a trio of billboards that say: "Raped While Dying," "And Still No Arrests?" "How Come, Chief Willoughby?" They're the justice-seeking, jumpsuit-wearing woman's way of calling out local authorities for letting her daughter's seven-month-old rape and murder case go cold. And everything about them — from the design and classic construction, to the custom structures that display them — is authentic. For the complete billboard blow-by-blow, we spoke with Three Billboards' production designer Inbal Weinberg, the brains behind Mildred's advertising war.
The posters were put out to pasture.
While Sylva, North Carolina, provided the perfect stand-in for fictional Ebbing's main street, it didn't have an isolated road with a house that could double as Mildred's, something McDonagh insisted on. The director wanted to be able to shoot the billboards in the same frame as the house with them looming in the distance — and without CGI. After scouting countless roads in the western part of the state, Weinberg says the production team finally found the cattle grazing meadow of a "super helpful " Black Mountain farmer, improbably named Brown. But before structures could be installed, his livestock and fencing had to be relocated, and new grass planted, landscaped, and tended to within an inch of its life by a greens crew — so it would look neglected.
Leaving nothing to chance, the design team also did 3-D-computer and Styrofoam models of the three billboards on the road to get the scale right. McDonagh, Weinberg, and the director of photography even went to the site with large posts strung with ribbons to see how they'd look before getting a local outdoor advertising company to build the structures.
The disintegrating signs got more attention than the new ones.
Ironically, less time was spent designing Mildred's display of moral outrage than on the dilapidated billboards they replaced. Much more work went into making the old ads after Weinberg ran with a script detail that said a 1986 Huggies ad was the only vestige from the patchwork of old posters. "So we went with the idea of a mosaic," she says. But not in a random way. In addition to creating a diaper ad, Weinberg and her team researched vintage Missouri tourism billboards, and designed fictional ones for the Ozarks and Ebbing. Local billboard companies printed the designs, old-school strip-and-paste style (as opposed to modern, stretch-vinyl sheeting), and they were cut apart. The remnants can be seen in the first (Ozarks) and third (Ebbing) billboards; the Huggies' baby sits in the middle one. McDonagh's sense of humor being what it is, he asked Weinberg to cut out part of the baby's eye.
The billboards dictated the shooting sequence.
Though Mildred and her volcanic anger — as she lays into Willoughby, and his racist, mama's-boy deputy, Dixon (Sam Rockwell), among others — get maximum screen time, her inanimate co-stars surely come in at a close second. During the course of the film, the billboards go through seven phases — all of which had to be synced with the shooting schedule, not only because you see them from Mildred's house, but also because at one point, Dixon sets them on fire. "We had to be really specific in terms of script continuity, and work closely with the assistant director and script supervisor based on what was going on with the billboards," Weinberg says. For those keeping score, in addition to the abandoned ads, the billboards are shown as Jerome (Darrell Britt-Gibson) puts them up; when the notices are new; after Dixon sets them ablaze; post-burn; during Jerome's reinstall; and finally, when they're redone.
The production didn't consider the change of scenery.
After several weeks of Weinberg's team offering up ideas with different colors, fonts, and word placement for Mildred's manifestos, McDonagh suggested giving the billboards a crimson background. That quickly led to black lettering in a font called — no joke — "Impact." As soon as the blood-red billboards went up, the location manager began getting calls from local residents about the eye-opening additions to their once-serene road. "We had become slightly desensitized to these big, shocking billboards because we'd been working on them for so long," Weinberg says. Though the crew quickly scrambled to cover them up, it wasn't easy because of their size. Weinberg says it took two scissor lifts and a crew of six to cover and uncover them with huge tarps every day. So the billboards became the talk of the town in more than just the fictional town of Ebbing.