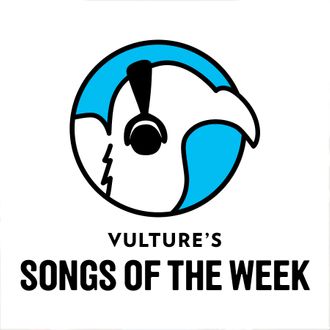 Every week Vulture highlights the best new music. If the song is worthy of your ears and attention, you will find it here. Read our picks below, share yours in the comments, and subscribe to the Vulture Playlist for a comprehensive guide to the year's best music.
Taylor Swift, "New Year's Day"
Forget the 13 Taylors new and old. Forget the snakes. Forget the crazy music videos that look a lot like Tron. Forget the feuds. Taylor Swift's greatest power is her piano. It's her most effective weapon and her most convincing olive branch. As a gawky teen, it made her look like an impressive singer-songwriter who could stand on her own without a production machine behind her, and it also made up for a shaky live singing voice. And look, no one is waiting for Swift to become Florence Welch, but as her vocals have gotten stronger and more confident, it has made her stripped-down ballads even more effective. "New Year's Day" is vintage Tay, the girl and her piano.
Unlike her lead singles, the song is lyric-driven, sentimental, and evocative. Like most of Taylor's best work, it plays out like a movie montage in your mind, stitching together images of hardened candle wax on the floor and the glitter you'll never really be able clean up. You can smell the smoke from the freshly extinguished wicks and hear the clanking of the bottles as you pick them up on New Year's Day. Taylor Swift is not one thing. She wouldn't have such proven longevity if she was static. I like cold, petty "Look What You Made Me Do Taylor" as much as I do earnest, loving Taylor, but if "New Year's Day" provides one extra bit of satisfaction, it's that the song renders those obituaries of her songwriting skill irrelevant. —Jordan Crucchiola (@jorcru)
Dashboard Confessional, "We Fight"
This was not the week to celebrate emo, given the sexual-misconduct allegations against one of the genre's most revered names, Brand New's Jesse Lacey. Heroes fall every day, especially of late. And if you were a disciple of the era that treated emo as a religion, then Lacey hit with a thud. You want to believe they weren't all like him, but if there are others, dear god, let it not be Chris Carrabba. Dashboard Confessional have returned at this most interesting period of reckoning to sign with Fueled By Ramen, the most important record label in pop-rock, and announced their first album in eight years. Ironically, their new song "We Fight" asks that you be your own hero. Demands it, really. It's the same powerful songwriting that always made Carrabba's voice a salve in a genre that wasn't always so healing. He's also right: "There's still a kid somewhere that needs to hear this." —Dee Lockett
Wilco, "Dynamite My Soul"
As part of the December 1 reissue of their two first albums, A.M. and Being There, Wilco are releasing a few outtakes from the albums' recording sessions. The second of these, "Dynamite My Soul," from Being There, is a reminder of just how good Jeff Tweedy has been from the beginning. The pared-down track features Tweedy accompanied by only an acoustic guitar, allowing his melancholy songwriting and soft-yet-rough vocals to come to the fore. "I think that was good enough," he says into the mic at the end. Yes, Jeff, it was. —Corinna Burford (@coriburford)
Eminem ft. Beyoncé, "Walk on Water"
Eminem's new song will not be for everyone. Writing this unguarded rarely is — it's intimate, flawed, and messy. It's Eminem processing in real time. Specifically, he's trying to find a place for himself in rap. It's a genre for the young — that's true of both its fans and artists — that hasn't always been kind to its elders. Until just this June, people called Jay-Z washed up. It's that kind of thinking that has Eminem worried and deeply insecure, concerned hip-hop has moved on without him. "And I try not to listen to nonsense," he raps. "But if you bitches are tryin' to strip me of my confidence, mission accomplished." That's real. Maybe even the realest thing Eminem has written in years, even better because it doesn't sound like it was written at all. Yes, you can hear Em ripping pages from his notebook and starting over in the track's background, but this feels like soul-baring poured out straight from the head. (I'm not saying he's freestyling, but it does not sound particularly thought out.) Eminem is showing his age and it's a good look. Beyoncé, meanwhile, sounds immortal as ever. —DL
Chromeo, "Juice"
When the world is burning, sometimes you just need to dance away the pain. Do it to "Juice," another '80s homage from the decade's most reliable imitators. —DL