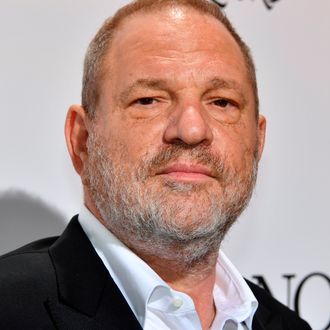 Photo: YANN COATSALIOU/AFP/Getty Images
The Weinstein Company might not be done, after all — though, if one potential reported bidder has her way, the production house will look and operate very differently. According to Deadline, Maria Contreras-Sweet, the founder of ProAmerica Bank and the former head of the Small Business Administration from 2014 to 2017, has placed a bid for the beleaguered company.
In a letter to the board, which was obtained by The Wall Street Journal, Contreras-Sweet wrote that, following the multiple allegations of sexual assault and harassment against the co-founder Harvey Weinstein, she wants to rebuild the company with women at the helm. Contreras-Sweet wrote, "Reorganizing the Company as a woman-led venture will be an inspiration to the industry and a new model for how an entertainment company can be both financially successful and treat all its employees with dignity and respect."
As part of the proposed deal, Contreras-Sweet would become the executive chairwoman with a majority-female board. Bob Weinstein, Harvey's brother, would be asked to leave the company, though the 157 employees would be retained. Contreras-Sweet would also rename TWC and start a fund for Harvey Weinstein's alleged victims.