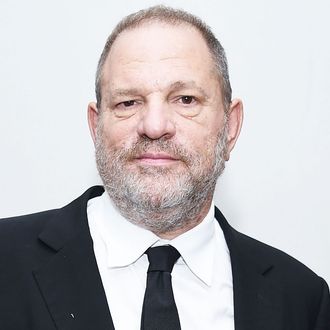 Photo: Dimitrios Kambouris/Getty Images
Harvey Weinstein covered up decades of sexual-assault and harassment allegations through concerted efforts that included bullying, media smear campaigns, strict nondisclosure agreements, and secret settlements. One such settlement, according to a new Ronan Farrow report in The New Yorker, came from Bob Weinstein's personal bank account.
After Zelda Perkins, an ex-Miramax employee, and her unnamed assistant were repeatedly badgered and harassed by Harvey while working for him in the U.K., they quit when he allegedly assaulted Perkins's assistant at the Venice Film Festival in 1998. Perkins confronted him, and after sending notice of legal action, his lawyers and the women's own attorneys pushed them to settle. Per The New Yorker, the settlement "mandated that Weinstein receive treatment from a psychiatrist of Perkins's choice and that Disney be notified of future harassment settlements made by him." The women split the settlement of 250,000 pounds. That money came from Bob Weinstein's personal bank account so it could be hidden from Disney, Miramax, and Harvey's wife. He addressed the payment in an interview with Farrow:
In an interview, Bob Weinstein acknowledged the personal payout but said that his brother had misled him about the reasons behind it. "Regarding that payment, I only know what Harvey told me, and basically what he said was he was fooling around with two women and they were asking for money," Bob Weinstein told me. "And he didn't want his wife to find out, so he asked me if I could write a check, and so I did, but there was nothing to indicate any kind of sexual harassment." A former senior Miramax executive said that it was implausible that Bob Weinstein did not know about the nature of the allegations, which were reported to the company.
Harvey Weinstein's criminal defense attorneys continue to mantain their client's total innocence: "Mr. Weinstein strongly objects to any suggestion that his conduct at any time has ever been contrary to law. Be assured that we will respond in any appropriate legal forum, where necessary, and fully expect that Mr. Weinstein will prevail against any claim of legal wrongdoing." Dozens of women have come forward to accuse Harvey Weinstein of rape, assault, and harassment. He is currently in treatment.