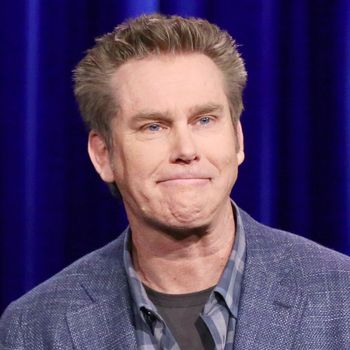 Photo: NBC/NBCU Photo Bank via Getty Images
I'm not a big fan of comedy classes. I think anybody who is starting out and wants to learn should save their money and just watch one of Brian Regan's specials. Each one – including Nunchucks and Flamethrowers, which dropped today on Netflix – is a near perfect blueprint on how to tell jokes. He has the form down pat. But even after more than three decades of performing, Regan is still trying to evolve. He's starting to get a little bit political. He's beginning to branch out into acting. "I've never wanted to be a caricature of myself. I would like when people watch me for them to go, 'This is different. I didn't expect this.'" I talked to Regan about trying new things, creating timeless comedy, and why when it comes to standup he considers himself a gluttonous pig.
You're one of those comics who gets name-dropped by heavy hitters all the time. Comics like Seinfeld, Bill Burr, and Patton Oswalt, have been saying for years that you're the guy to watch. How do you feel when your peers give you that kind of praise? Are you good at taking compliments?
It certainly feels good. I grew up in a big family of eight kids, so anytime anyone got a little swell-headed you were knocked right back down. I'm pretty good about keeping things in check. I certainly appreciate when other comedians like what I do, especially comedians of the stature you described. It's a huge honor, but I also try to be careful to make sure I'm still caring about the audience. There's the term "playing to the back of the room." Some comedians play more to the back of the room, meaning they do it more for the comedians instead of the audience. Some comedians care more about the audience and could care less about other comedians. I consider myself a pig: I want everyone to like what I do. I want the audience and the people in the back of the room. I'm gluttonous.
What number are you in the lineup of siblings?
The smartest. But I'm fourth out of eight chronologically.
Did you ever deal with the stereotypical middle child syndrome?
Oh yeah. I remember sitting at the dinner table saying, "Can you pass the fish sticks down this way?" and having my brothers and sisters say, "Who are you?" To get attention you make jokes, get silly, be goofy. I definitely had the middle child syndrome where I just wanted to fit in, serve my little role as fourth out of eight, enjoy my older brothers, enjoy my younger brothers and sisters, just kind of fit into the family. It seemed to work out all right.
You dropped out of college to pursue standup, right?
Correct. I was 10 credit hours shy of graduating, but the 10 credit hours were only offered in a semester that wasn't going to be for a while. I knew I wanted to do standup comedy. I had this passionate urge to go after it. The thought of idling through the semester I was in, then through a summer, then going back for another semester to complete credit hours to get a degree that I knew I didn't need to get on at an open mic night was just torture for me. I thought, "I can't wait any longer I have to go after this," so I dropped out of school to pursue the comedy thing.
Did you ever go back and finish just to have the degree?
I did. I went to my 15-year college reunion wondering, "Am I allowed to go in there? I didn't graduate. Are they going to make me stay in the parking lot?" One of the professors who remembered me said, "Why don't you get your degree? You're only 10 credit hours shy." I said, "I would like to, but I can't go back to school. I have a career." He said, "You don't have to come back. We'll figure something out where you can write papers and stuff and finish the last 10 credit hours to get your degree." I did that and ended up going to Heidelberg to do the walk with the robe, the hat, the whole nine yards. It was something that I wasn't able to do when I was supposed to do it. It was a cool experience. I flew my mom and dad out from Miami, Florida to watch me walk onstage and get my sheepskin.
There have been several times when I have been talking to comics where someone says, "You know, it's like in that Regan bit," and then they'll quote something of yours from years ago. Watching this newest special I realized that a lot of your material is evergreen. There's not a lot of jokes that couldn't be told in the span of 20 years in either direction. When you're writing are you intentionally trying to create material that can span time?
That is a factor, yes, but not every bit can be like that. In this special I talked about Kim Jong-un and that sort of thing, but for the most part I want the comedy to be something that can exist for a while. I used to watch George Carlin on his HBO specials and I realized that he learned to wear very neutral black outfits so that the style didn't look dated. You could put on a George Carlin thing right now and not go, "Oh, wow, that's '80s," whereas in his earlier stuff he's wearing bell-bottoms and you can tell it's from that time period. I also like to have the comedy be as timeless as possible, where it's not about comedy that can only exist now, it's about comedy that can exist at any time. I don't go to the degree that he does in terms of what I'm wearing, but I try to pick clothes, in addition to the subject matter, that are relatively neutral. I'm sure one day I'll look back at this and go, "Man, what was I thinking wearing that shirt and that pair of pants?" Sometimes I watch specials of guys in the '80s and they're wearing parachute pants and stuff. You think they must have wanted the special to only be valid for a three month period. I can't even get past those clothes to hear the comedy.
I did notice that in the special you dipped your toe in politics a little bit, which isn't something you normally do. Did you feel that you had to address it because of the way things are right now or are you starting to shift a little bit in your subject matter?
The latter. I want to evolve. I like what I used to do, but I want to keep changing and growing as a performer. I've never wanted people to figure me out. I've never wanted to be a caricature of myself. I would like when people watch me for them to go, "This is different. I didn't expect this."
You signed a deal with Netflix for two specials. Do you have an update on how the next one is shaping up?
The next one is supposed to come out in 2019, so we are probably going to shoot it mid 2019 to come out at the end of 2019. I don't know where yet.
You play a character in the series Loudermilk. You're not traditionally known as an actor. How does it feel to dabble in the world of acting?
I'm enjoying it a lot. It's a 10-episode series. Peter Farrelly of The Farrelly Brothers is one of the co-creators and director of it. It's a serious comedy about substance abuse, but it's done in a very funny way. I have a little role in it. I'm in nine of the 10 episodes. It was fun for me putting on the actor's hat. It was a bizarre experience and a new animal for me. I didn't know if I was going to be able to do well or not, but it seems like it came off okay. If they order up a second season it would be pretty thrilling to be able to be a comedian and something else. I've never really been anything else.
Photo by Jeffery Garland.