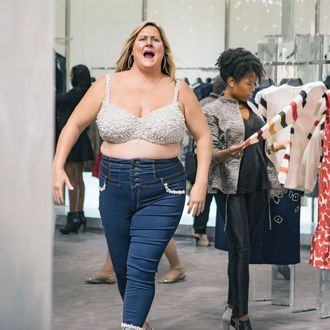 Bridget Everett in
Love You More.
Photo: Sabrina Lantos/Courtesy of Amazon Studios
Around three a.m. on a summer night in Toronto, Bridget Everett stands in the middle of the shoe department at Holt Renfrew, Canada's answer to Barneys. It's the penultimate shooting day for the pilot of her new show, Love You More, and the 12th hour of what will be a 16-hour day. "I'm looking for my dog, my shit, and the makeup girl to bronze my tits," Everett announces. As it turns out, her dog, a Pomeranian named Poppy, has been taken for a walk by a P.A. Everett's "shit" — a large purse that carries mysterious miscellany — has been moved by another P.A. As for the makeup woman, she is taking a well-deserved break. Everett smiles broadly and adds, in regards to her tits, "I could go ivory-white, but sun-kissed is better, don't you think?"
It's difficult to talk with — or about — Bridget Everett without discussing her breasts. They're the centerpiece of the raucous, raunchy cabaret act that she's been doing for years at Joe's Pub and comedy festivals around the world. They're also the subject of her signature song, "Titties," an ode to the infinite variety of breasts ("She got them tube-sock titties / She put 'em in the air / I've got these beaver-tail titties / Put 'em in the air"). And they're a major plot point in Love You More, in which Everett's character, Karen, spends an entire episode trying to find a bra that fits.
The 45-year-old Everett's long been a bit player on ground­breaking TV shows of a particular feminist bent — Girls, Inside Amy Schumer — but Love You More is her first star vehicle. Fans will be grateful to learn that it's been lovingly built around the bighearted, foulmouthed, Chardonnay-swilling persona that Everett has spent a decade honing. Karen is a counselor at a home for young adults with Down syndrome, her love life is in shambles, and her roommate is a 71-year-old widow named Jean (Loni Anderson). Karen's id finds its expression in a climactic musical number ("Titties," in fact). Like Everett's stage act — imagine Karen Finley doing a Janis Joplin impersonation — the show oscillates between the tender and the tawdry, the sweet and the scandalous.
Michael Patrick King, a writer of Sex and the City and the co-creator of 2 Broke Girls and The Comeback, saw Everett perform at HBO's Comedy Arts Festival in Aspen a decade ago. "Her act was still coming together," he says, "but she did her song 'Canhole.' That's when the love affair began." King became a mentor and eventually suggested they collaborate on a TV show. "I broke into tears," Everett says. "It's all I ever wanted." A year later, she asked comedian Bobcat Goldthwait to join them as a collaborator. He didn't take much convincing. "Bridget is my favorite live entertainer," he says. "Period."
The trio spent a year and a half striving to create a well-rounded, believable world while still capturing Everett's outrageous stage persona. "Bridget represents people who aren't performers," King says. " She's not physically traditional. It suggests that everybody has music in them."
"You have to balance the tits with some heart," is how Everett puts it. "A lot of people are surprised when they meet me because onstage I'm such a maniac. In real life, some people describe me as like a schoolteacher. I think I'm somewhere in between." As the premiere of her pilot looms, Amazon Studios has been upended by edicts about a complete change of direction and the resignation of its chief, Roy Price, amid sexual-harassment allegations. "I've never met Roy Price," Everett texts me in reply to a query.
"I am very grateful to the victims of harassment and abuse that have had the courage to come forward." The usually outspoken performer leaves it at that. The world of TV is, after all, uncharted territory for a woman known for taking no prisoners. "I was out yesterday buying some toilet paper," she'd told me at one point, "and I got a call. It was Loni Anderson. She was just checking in. Those are the moments when I'm like, 'Oh my God, my life really has taken a turn.' "
Love You More premieres on Amazon Prime on November 10.
*This article appears in the October 30, 2017, issue of New York Magazine.