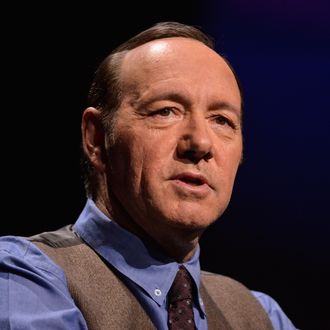 Photo: Michael Tullberg/Getty Images
Kevin Spacey is now the subject of an investigation by British police, the Guardian reports. Scotland Yard's child-abuse and sexual-offenses team are examining allegations from a man who said he was sexually assaulted in 2008, during Spacey's time as artistic director of the Old Vic theater in London. "On 1 November, City of London police referred an allegation of sexual assault to the Metropolitan police service," a Scotland Yard spokesman said Friday, according to the Guardian. "It is alleged a man assaulted another man in 2008 in Lambeth. Officers from the child abuse and sexual offenses command are investigating." The police did not name Spacey in their statement, but it is believed to be the House of Cards star.
The accuser told the Sun he was 23 when he visited Spacey's home to ask for career advice. He says they shared a drink, and he later passed out and woke up to Spacey performing a sex act on him; he left after asking Spacey to stop. Spacey has now been accused of sexual misconduct by several men, including an anonymous former child actor who spoke to Vulture on Thursday, saying he had a sexual relationship with Spacey when he was underage. Several former House of Cards assistants have also accused the actor of sexual misconduct on set. Spacey was dropped by his agency and publicist Thursday night, and is currently seeking treatment.