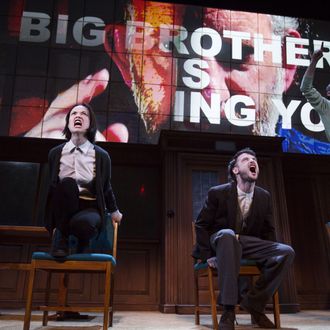 Photo: Copyright 2017 Julieta Cervantes
In a story so enigmatic and inscrutable, Big Brother would be jealous he didn't think of it first, the Broadway production of 1984 was reportedly deemed ineligible for next year's Tony Awards on Thursday because nominating committee member Jose Antonio Vargas was refused access to the show. "It was determined that not all elements of the required eligibility were fulfilled," Tony Awards administrators said of the ruling. "Both the production and the committee have discussed the matter in private. While all parties involved do not necessarily agree on the outcome, all parties agree that the issue was handled properly." As the New York Times notes, all 49 members of the Tonys nominating committee must be invited to a show if said production wants to be considered.
As for why Vargas, a journalist and an immigrant-rights activist, wasn't allowed to attend the show based on George Orwell's classic novel, unfortunately neither the show's producer Scott Rudin nor Vargas offered anything by way of an explanation. The Times notes that Vargas criticized the film The Social Network, which was co-produced by Rudin, upon its release in 2010. However, Rudin's spokesperson denies that critique has any connection to the current 1984 debacle. Another of the play's producers, Sonia Friedman, told the Times, "I don't have a comment on the matter other than I am disappointed with the outcome." We'll just have to trust that the Ministry of Everything Is Completely Fine Between 1984 and the Tonys, Honestly, Really has got everything under control.