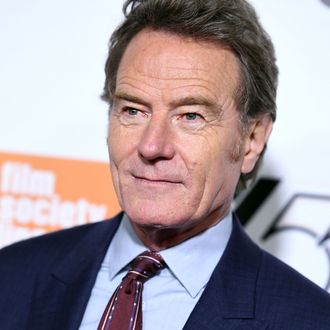 Cranston.
Photo: ANGELA WEISS/AFP/Getty Images
As allegations of sexual assault and harassment continue to send shockwaves through Hollywood, Bryan Cranston told the BBC that if two of the accused — Kevin Spacey and Harvey Weinstein — take years to work through their "psychological and emotional problems," maybe they can be welcomed back into the industry. It would take "tremendous contrition," Cranston says, when asked if the two men can make it back, but if they put the work in, maybe they can make it happen. "Maybe down the road there is room for that. Maybe so. Then it would be up to us to determine, case by case, whether or not this person deserves a second chance. We should let that open. We shouldn't close it off and say, 'To hell with him, rot, and go away from us for the rest of your life.' Let's not do that that. Let's be bigger than that," Cranston said of the men. To keep count: Weinstein has now been accused of sexual harassment, assault, or rape by over 90 women; 15 men have accused Kevin Spacey of misconduct ranging from assault to attempted rape and a sexual relationship with a 14-year-old. "Let's leave it open for the few who can make it through the gauntlet of trouble and who have reclaimed their life and their dignity and their respect for others," Cranston finished.*
*A previous version of this post incorrectly included Bryan Cranston's earlier comments about Donald Trump ("It would be egotistical for anyone to say, 'I hope he fails.'") with the actor's statement about Harvey Weinstein and Kevin Spacey. We have updated accordingly.