The House of Yes is a club in Bushwick famous for its lusty, sex-positive parties. The festivities typically feature feasts served on naked bodies, burlesque performances, and barely clothed aerial dancers, men and women both, locked in hanging cages. The vibe is reliably nightclub–meets–adult circus, even on the Tuesday night in September when Mayor Bill de Blasio pulled up in his motorcade to sign legislation to create the city's first Office of Nightlife.
The office, which will be opened by next spring, comes on the heels of the city's decision, prompted largely by Bushwick City Council member Rafael Espinal, to repeal a 91-year-old cabaret law that required a special license for dancing venues. The Office of Nightlife will be run by a "nightlife mayor," who will be tasked with, yes, staying up all night (or so Espinal, who drafted the bill, would prefer) to deal with nightlife-related issues. The nightlife mayor will liaise between the city and the nightlife community, while being advised by a 12-member panel of nightlife advocates, community members, and restaurant and bar owners. The idea for such a position is not without precedent: Amsterdam was the first to create one, followed by London and Paris. Several American cities now have a nightlife mayor, including San Francisco, Austin, and, surprisingly, Iowa City.
The announcement of New York's Office of Nightlife comes not long after the release of an influential report, in March, by the city's Office of Media and Entertainment, which oversees the city's music industry. It found that more tickets are sold for live performances here than in any other city in the world (5.4 million in 2015) and that New York can still support additional venues — but that the most at-risk sector is the small local venue that supports artist communities. Over 20 percent of such venues have closed in the past 15 years. The report concludes, "This presents a potential problem for maintaining a thriving artist community, and NYC as the destination of choice for up and coming artists."
In fact, the city faces a cultural existential crisis: Independent venues whose nightly concerts are coordinated by small-time bookers and not big corporations like Live Nation and AEG Presents are rapidly disappearing. Bowery Presents used to run many of the smaller-capacity spaces, booking new and mid-career bands in Bowery Ballroom, Mercury Lounge, and Music Hall of Williamsburg — but Bowery Presents was recently purchased by AEG Presents. In April, Webster Hall, which had been run by a single family for 27 years, was bought by AEG and the people who own Barclays Center. That leaves a handful of independent outlets: Baby's All Right and Brooklyn Bowl in Williamsburg, Brooklyn Bazaar in Greenpoint, (Le) Poisson Rouge in Greenwich Village, and the Knockdown Center in Queens. Beyond that, there's a smattering of independent and underground clubs that operate around the city — but they are vanishing as well. This is the situation that the nightlife mayor is meant to address: In the cultural capital of the world, you can literally count the number of decently sized independent spaces on one hand.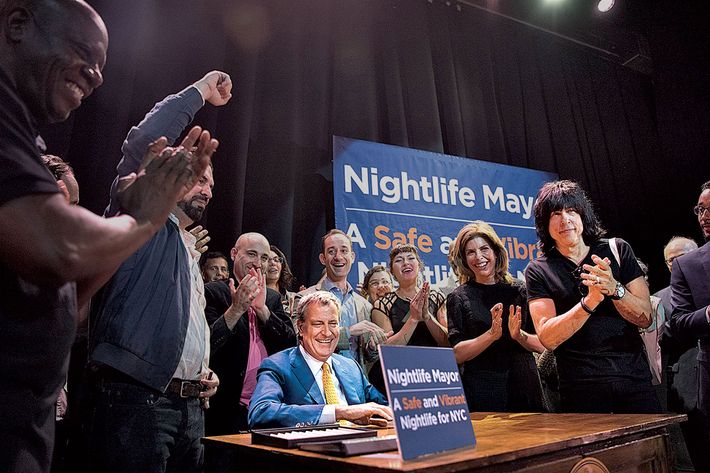 To find indie clubs that support local talent, artists have had to look elsewhere — and Elsewhere, it turns out, can now be found in Bushwick off the Jefferson L. "We're trying to be Zen," Jake Rosenthal, one of three partners opening the space, told me back in the spring when I visited him at the construction site. Rosenthal and his partners used to run Glasslands, a club in Williamsburg that is best remembered as one of the stalwarts of Brooklyn hipsterdom in the late aughts — and which was later turned into offices for Vice Media. Before Glasslands closed in 2014, the understanding had been that if an underground venue was shuttered, it was sad but no big deal: Two more would pop up in its place. This is no longer true. "It's impossible to run a truly quasi-legal music venue anymore," says Rosenthal. Many of the most prominent DIY venues — community-focused, artist-run, and often not-entirely-legal ones — in Bushwick have closed under the burden of license- and safety-violation fines. This includes spots like Aviv, Palisades, Cake Shop, Poppers Locarno, and 285 Kent. In June, the Bushwick basement spot Suburbia was raided and shut down by cops in the middle of a show. The struggle to survive has even moved beyond these quasi-legal nightspots into fully legal independents, like Bossa Nova Civic Club, an aboveboard techno club in Bushwick that was visited by authorities a dozen times in January. "The message they were sending, whether they meant it or not, was 'You cannot exist,' " says John Barclay, the owner, who also created the advocacy group Let NYC Dance. Now, after decades of antagonistic relationships with city government stretching back to Giuliani, nightclub owners are starting to see City Hall as, if not an ally, no longer an active adversary.
DIYs still face a range of obstacles. The issues are exemplified in the story of Shea Stadium — the club, not the Mets' former ball field. Shea's problems began on the night of Trump's inauguration, when, after eight years of shows on the second floor of a Bushwick building, Shea was raided by the Fire Department for the first time. The FDNY came back again the next day to shut down another show. DIYs around the city started experiencing similar crackdowns after a fire at the Oakland venue Ghost Ship in early December 2016, when 36 people died.
Then, on December 16, Shea was targeted on a 4chan message board called "Right Wing Safety Squads." Post Ghost Ship, trolls had gathered online to uncover and report DIY spaces that they called "very popular with leftists and degenerates." "We ran a space for eight years, and I never thought to consider neo-Nazis on the internet having an impact on safety until this year," says Adam Reich, one of Shea's owners.
The old Shea was eventually shut down. "These are polarizing times," says Reich. "You either need to go further into daylight with all your permits intact or go further underground and make sure you can protect whatever you've built for yourself." Reich and his partners decided that they were too big to remain underground, so on March 22 they took to Kickstarter, asking for $50,000 to retrofit their venue, bring it up to code, and become legal. By April 3, they had received $86,000. But that was not the end of the problems for Shea. Two weeks before the Kickstarter was set to conclude, Reich learned that Shea's landlord would not renew their lease — he'd decided he was going to open up his own nightclub in the space instead.
New York culture has always been defined in part by independent venues like CBGB — which is why Marky Ramone, whose band the Ramones first performed publicly at the legendary space, escorted Mayor de Blasio to the signing event at House of Yes. It's easy for most people to understand what would be lost if places like CBGB and Andy Warhol's Factory had been shut down just weeks into their existence, erased from the city's cultural history. But the value of similar sites today gets obscured. These venues are "where bands are started and ideas are made," says Andrew Savage of the band Parquet Courts, who cut his teeth booking shows in his living room in Texas before moving to New York and starting his own record label, signing bands he first encountered at venues like Death by Audio. Without this network, there would be no the National. No Grizzly Bear. No Yeah Yeah Yeahs, who helped define early-aughts rock. This benefits fine artists as well. Raúl de Nieves had some of his first gallery shows at early iterations of Secret Project Robot, an art gallery and party space in Bushwick that has since closed and reopened multiple times. This year, his work was in the Whitney Biennial.
Two weeks ago, Savage, who's also a painter, had an opening at a DIY gallery called Idio in East Williamsburg. The night of the opening, the gallery was shut down. "The police think it's a rave and everyone's on ecstasy listening to techno," says Rachel Nelson, who's been running Secret Project Robot for 13 years. "But a lot of these spaces are just like 12 weirdos hanging out and listening to weird music."
In May, Secret Project Robot officially went legal, opening a bar that's attached to a white-walled gallery on the border of Bushwick and Bed-Stuy. The opening party was tame; when I arrived, Nelson was not there because she was walking her mom home. Before she opened, Nelson went to the police precinct to introduce herself to her local community-affairs officers in an attempt to start off on the right foot. So far, there have been no problems between Nelson and the police, which is probably because the city itself has noticed what's going on. That's mostly thanks to Espinal, who helped organize the event that brought de Blasio to House of Yes. "It was surreal," Espinal remembers. "I was dressed down in my T-shirt and jeans and Converse because I was hoping to party afterward." While he will not be the nightlife mayor — he prefers writing legislation instead — he'll have oversight of the position.
The purveyors of nightlife are starting to feel supported rather than hounded. Recently, Cultural Affairs Commissioner Tom Finkelpearl organized a DIY-music meeting in preparation for his CreateNYC report, a comprehensive plan for the city. More than 100 people from the DIY community showed up. And by mid-December, de Blasio will have picked New York's first nightlife mayor, who will have 18 months to develop a plan for how to improve the city's nightlife-related communication.
Until then, there's already reason for a party — like the one held on October 31 to celebrate the grand opening of Elsewhere, a 24,000-square-foot venue three years in the making. Downstairs, the Afro-Latin band Combo Chimbita played the main stage, while in a smaller room, the queer rapper Cakes Da Killa performed from a circle in the middle of the crowd, under the same disco ball that hung in the old Glasslands. "We're seeing a liberalization of how the powers that be view nightlife in the city," Jake Rosenthal tells me after the party. "But there are still so many structural problems that need to be addressed, like the cost of living." For now, though, Rosenthal is just happy that Elsewhere is a reality. "It feels like heaven," he says.
*This article appears in the November 13, 2017, issue of New York Magazine.