Cardi B thinks nobody is watching her as she practices in the backstage holding pen at Brooklyn Academy of Music, where Jimmy Kimmel Live! is taping a special. Everyone is, though: She's built to watch, built herself to be watched; 12.8 million Instagram followers agree. But this is a jittery, private moment. She's mouthing her lyrics into a handheld mic, nervously marking when she's going to shimmy her shoulders, flip her hair, grind her hips, point at the audience.
Cardi B — the stripper turned social-media sensation turned reality-TV star and, now, ascendant rapper — has performed her surprise hit "Bodak Yellow" dozens upon dozens of times before this. She's done it at least five times this week, and it's only Wednesday. In late September, with an assist from an online fan campaign, Cardi unseated Taylor Swift from her carefully plotted slot atop the pop charts, making Cardi the first solo female rapper in two decades to have a No. 1 song since Lauryn Hill did it with "Doo Wop (That Thing)" in 1998 and certainly the first reality-TV star (or Instagram personality) to do so. This is the kind of audience and attention that comes with mainstream success. Last night, Cardi met J.Lo backstage at a benefit. "I just kept acting like a fucking weirdo, but I think she understands," Cardi says. "Man, I met Beyoncé, too. Who else I gonna meet? Jesus?"
She's precisely dressed in hot-pink, vintage-Chanel sunglasses — clout goggles, as they're known on style blogs — and a costume that shows off her urban-strip-club Jessica Rabbit form: a hot-pink sequined bandeau top, matching high-waisted pants, and a hot-pink feathered coat. Her wig of the day, long and black, is flat-ironed to the gloss and fluidity of an oil spill. She's nervous; Kimmel has just announced she'll be on to perform the No. 1 song in the country.
"Actually, it's No. 2," Cardi quietly responds to the flat-screen TV in her dressing room, a surge of anxiety in her voice. "Bodak Yellow" had, just hours earlier, been unseated by the white sorta-rapper Post Malone's droning "Rockstar."
"What, you want us to tell him to correct himself?" someone from her team asks, before telling Cardi that nobody knows just yet that she's lost her perch.
Cardi doesn't want empty reassurances. "They keep saying, like, 'You got this,' 'You're the one,' " she says. "Sometimes I get a little discouraged, and I wonder how it is going to be next year, but it seems like everybody already predicting where I'm gonna be next year, and it's just like fucking farther than my asshole," she says, speaking in her particular way, so that my asshole is joined by the diphthong to become one word: myyesshole. Is that so far? It's not, she says, her famous confidence reasserting itself.
The fog machine begins to roll; her DJ cues up the first notes. And as Cardi booty-pops and modified-merengues her way through "Bodak" on the Kimmel stage, resplendent in her Technicolor glory, in that coat she says makes her look "like a motherfucking chicken," I notice a middle-aged white woman in a cable-knit sweater, raising the roof emphatically to a hard-ass hood hit.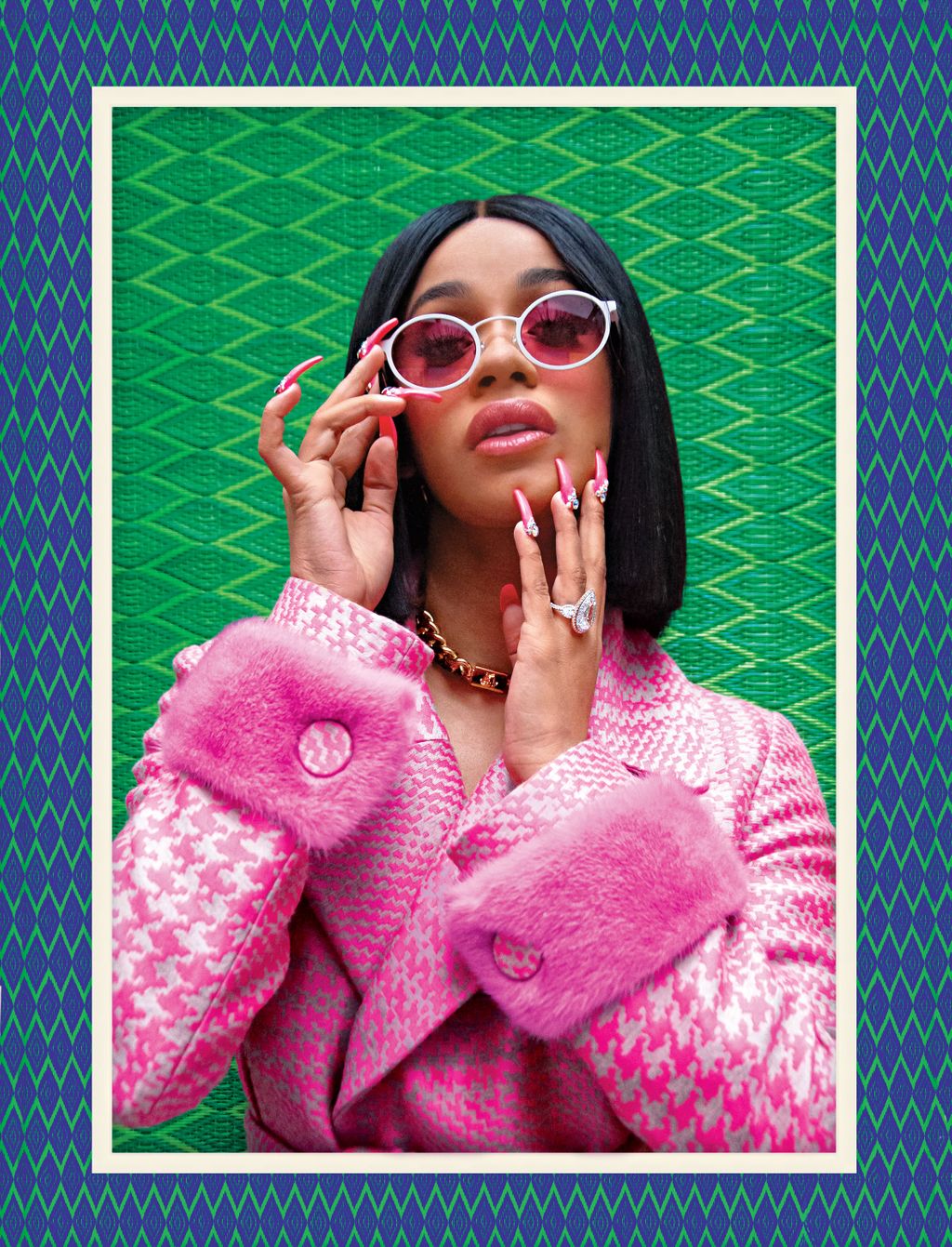 "I don't dance now, I make money moves." It's a bildungsroman in two lines, a lyric that's both a useful summary of Cardi B's career arc and the hook to "Bodak Yellow." It was a slow-building-groundswell record, not one that was manufactured by a Swedish hit-bot in selvedge denim but one that started with Cardi fooling around over the top of a song, "No Flockin'," by rapper Kodak Black. Cardi wasn't sure it was good — she even asked a reporter to take a listen, unsure of what she had. Released in June, "Bodak Yellow" moved to Spotify's influential RapCaviar playlist in July, which helped bring it to open-car-window ubiquity sometime in the hottest months of the year. Even now, the ferocious opening bars to the song — "Said little bitch, you can't fuck wit me" — still get a dance floor going. It's the way she spits the lines. The way the only consonant she pops in an otherwise languidly delivered statement is that B in "bitch." It's dismissive and confident — a burn, an assertion, and a mic drop in one. It's the rap version of Don Draper shrugging, "I don't think about you at all."
Women, and especially women of color, seem to love the song most, as an anthem of knowing your worth and getting what you deserve, of flipping expectations. Or, in Cardi's own words: "It makes you feel like a bad bitch. It gives you this self-esteem," a pickup, even for her. "Sometimes I don't feel like I'm the prettiest, sometimes I don't feel like I'm on top, and when I hear 'Bodak Yellow' again, I'm like, 'Yeah! I'm that bitch!' " she says.
When the record hit that No. 1 spot — two weeks before she won five of the nine BET awards she was nominated for, including Hustler of the Year — everyone wanted a piece of the Cardi moment. Lyft capitalized by offering riders a code named for her fan club, BardiGang, that turned all the cars on the app's map into graphics of her face and nail art. Sam Sifton mentioned the song in his New York Times "What to Cook This Week" newsletter. Atlantic Records threw her a party in its midtown offices. The downstairs lobby was transformed into a work-appropriate strip club, where women in black booty shorts wove through the crowd carrying Champagne bottles with sparklers in them and passed out red-velvet cupcakes with big red B's on them. Guests were encouraged to make it rain with stacks of Bardi Bucks, on which her tongue-wagging profile replaces George Washington's. "They told me to say something nice," Cardi said to the assembled crowd, before giving her friends and family a heartfelt thanks and cheekily singing Swift's "Look What You Made Me Do" with a tongue click, as if signaling to a horse to turn.
Swift soon sent Cardi B flowers to congratulate her on the coup. Cardi bought herself a $240,000 burnt-orange Bentley SUV, even though she doesn't drive, because it's what rappers should have. She bought herself a Patek Philippe watch, too, but somewhere on the road from a party-hosting gig in Philly, it went missing. She says losing it made her feel like she "just got fucked in the heart. Without a condom. Without lubricant. With a yeast infection."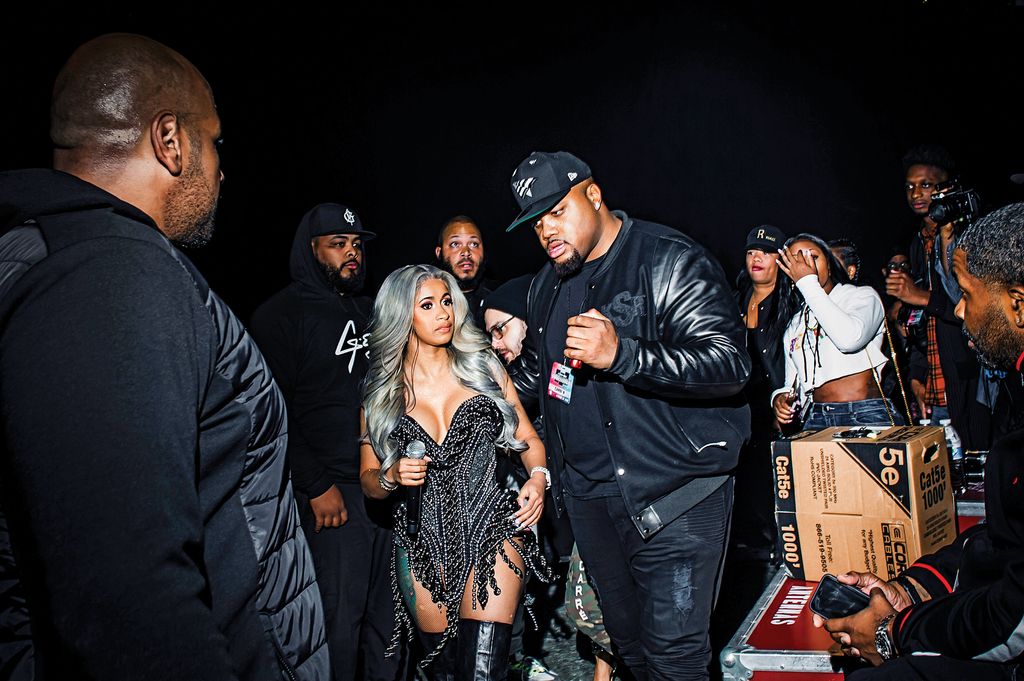 Back at Kimmel, Cardi's father, cousin, publicists, managers, and assorted glam-squad members are all squeezed together in the dressing room, amid a jumble of castoff clothes, iPhone chargers, and cold Jamaican beef patties from Golden Krust around the corner. She's dressed in camo sweatpants that belong to the Migos rapper Offset, her soon-to-be fiancé (he would propose a week later), and is sitting in a chair, her bare pedicured foot steadily tapping against the edge of the counter, closely monitoring her makeup artist as she sweeps a Beauty Blender dabbed in beige foundation down the sides of Cardi's nose to make it seem smaller. "God makes everybody perfect, but sometimes He fucks up," Cardi says, and later asks one of her publicists for three weeks off in December so she can take care of it in a more permanent way. (Cardi isn't shy about discussing cosmetic alteration; in one memorable radio interview, she gave a play-by-play account of the basement butt injections she'd gotten.)
"Ay, stop, that's too light!" she says, appraising the stripe of makeup being dabbed on her café au lait skin. "I'm gonna look like I've been hitting that bocaine." The crowd on the couch laughs and trills an "Okurrrrr!" in response, like a chorus of pigeons.
"Where the fuck y'all get that shit from? The Bardashians?" she asks her publicist Patientce Foster, before mimicking the noise. (Foster, like many members of the Cardi team, has been a friend for years, predating fame.)
"I have been told it's straight from the LGBTQ community," Foster responds crisply, preparing herself a cup of Hennessy and apple juice in a paper cup. Cardi turns back to the mirror and throws two middle fingers up, tilting her head and sticking out her legendarily large tongue. She then falls deep into a trance on her cracked rose-gold iPhone — scrolling, double-tapping with her long pointed nails that currently boast little pictures of her famous fiancé's face, done by the Bronx-based manicurist she's been going to for years.
Cardi begins fantasizing about her wedding. "The world is not ready for it," she says. "Everybody got to be wearing red." (There's a persistent rumor that Cardi was, or maybe is, a member of the Bloods, one that's fueled by her predilection for the color red and for adding B to words that don't begin with B. Then, of course, there are the "Bodak Yellow" lyrics — "These is red bottoms, these is bloody shoes" — which could either refer to Christian Louboutin heels or be a more coded reference.) "And my bridesmaids are gonna be wearing suits, what's good."
Her stylist starts pulling out what Cardi will wear onstage. And then, shooing her father and cousin out, she's totally, suddenly naked, her hands moving down her body as she appreciates her own hydrogen-bomb-shaped boobs (she bought them, she says proudly), her tiny waist, her big hips.
I'm not the first journalist Cardi's stripped down in front of. It's not exactly strategy — she has to get undressed to get dressed — but it's not exactly not strategy. She knows that raw, unfiltered Cardi at its Cardi-est — the one-liners delivered in a thick, long-voweled, uptown-hewn Spanish accent, the vulgarity, the percussive cackles she uses as punctuation, the self-awareness combined with the unself-consciousness about her flesh — is right now the most exciting product not just in hip-hop but in all of pop culture.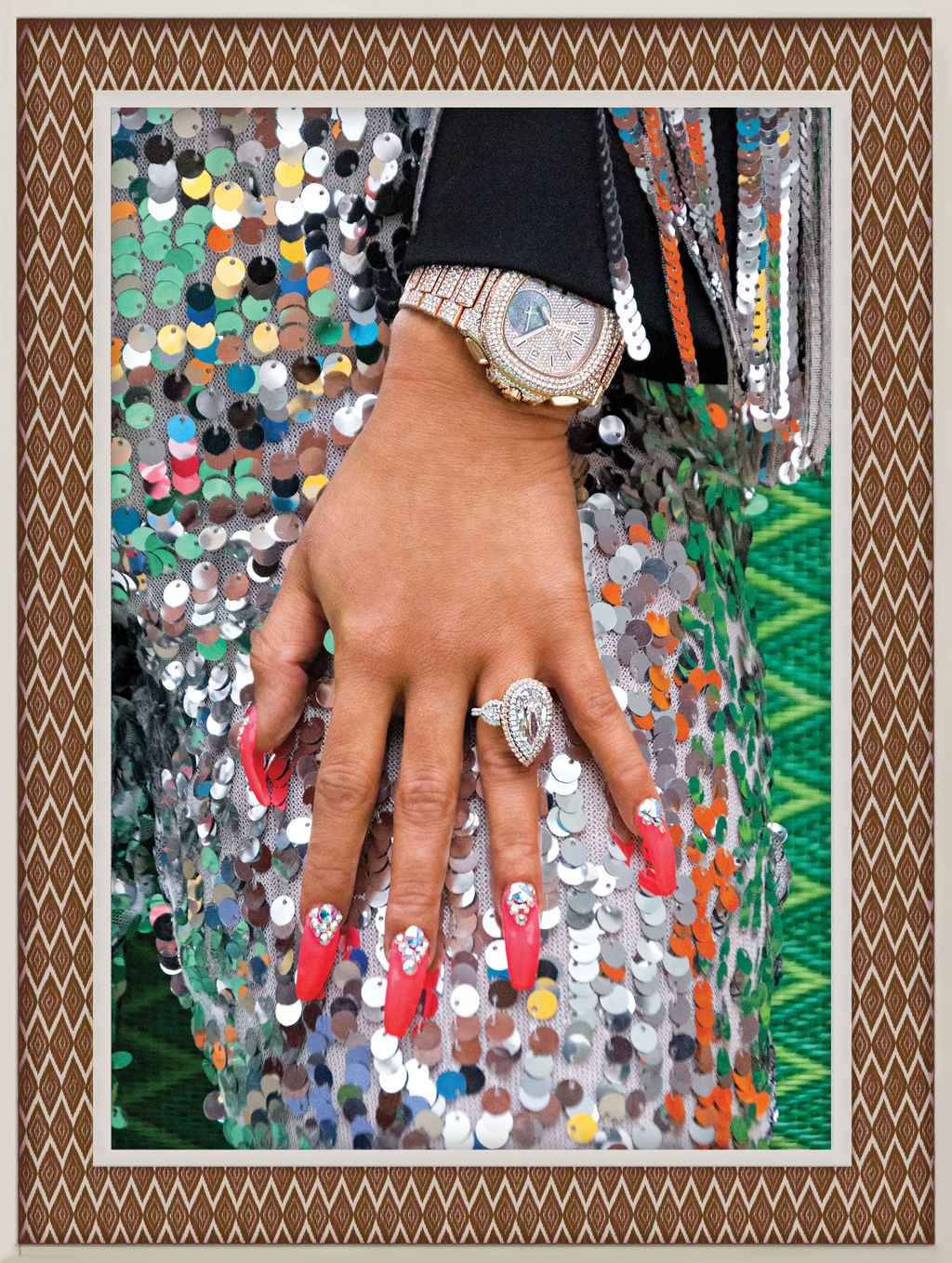 Cardi B is, considered one way, only the latest bombastic, came-up-on-a–New York–block female rapper to fascinate the world with her sharp lyrics, sharp six-inch acrylics, and grab-you-by-the-balls sexuality. Before her were Lil' Kim, Foxy Brown, Remy Ma, Nicki Minaj, forgotten groups like HWA (Hoez With Attitude). All share an insistence on demanding, over hard-rap tracks, what their male counterparts demand — money, power, respect, quality oral sex — from the female point of view, in the face of criticisms of everything from their overt sexuality and their weaves to their perceived lack of talent.
But if you think of Lil' Kim and Minaj as the queens of New York rap (or the king, as Minaj often prefers to call herself), each can be understood as representing the rap Zeitgeist of a decade: Lil' Kim brought a gangster-rap authenticity in the '90s; Minaj's savvy image-making, entrepreneurial ownership over herself as a brand, and impenetrable air of control were indicative of the genre's maturity ten years on from that. And now, one decade later, we have reached, for the first time in history, hip-hop–R&B beating out rock and pop as the dominant music genre in the U.S., according to the 2017 Nielsen midyear music report, and so Cardi has a certain competitive advantage over her predecessors. She can seem almost like a caricature of a female rapper who has remixed the vibes of those women who came before her. (Cardi wouldn't be pleased to hear this — the only conversation she dislikes more than "which female rapper she's beefing with" is "which female rapper she's most like.") She's taken the concept of "ratchet" — a southern rap term, first used as an insult akin to "ghetto," that evolved over the years to mean "raw" — and played with it to her advantage. She's an adroit creature of the media she's been saturated by growing up; like all of her age mates, she is highly self-aware, referential. She understands on a cellular level what might go viral, how to craft something for social media, how to speak in sound bites, and how to reveal enough of herself, seemingly unfiltered, to be interesting. But that's not the real charm or genius of Cardi, which is her ability to not let all of that get in the way of what and who she actually is: funny, a little neurotic, unabashed in her ambition and desire for money, and yet sincere in her attachment to how and where she grew up.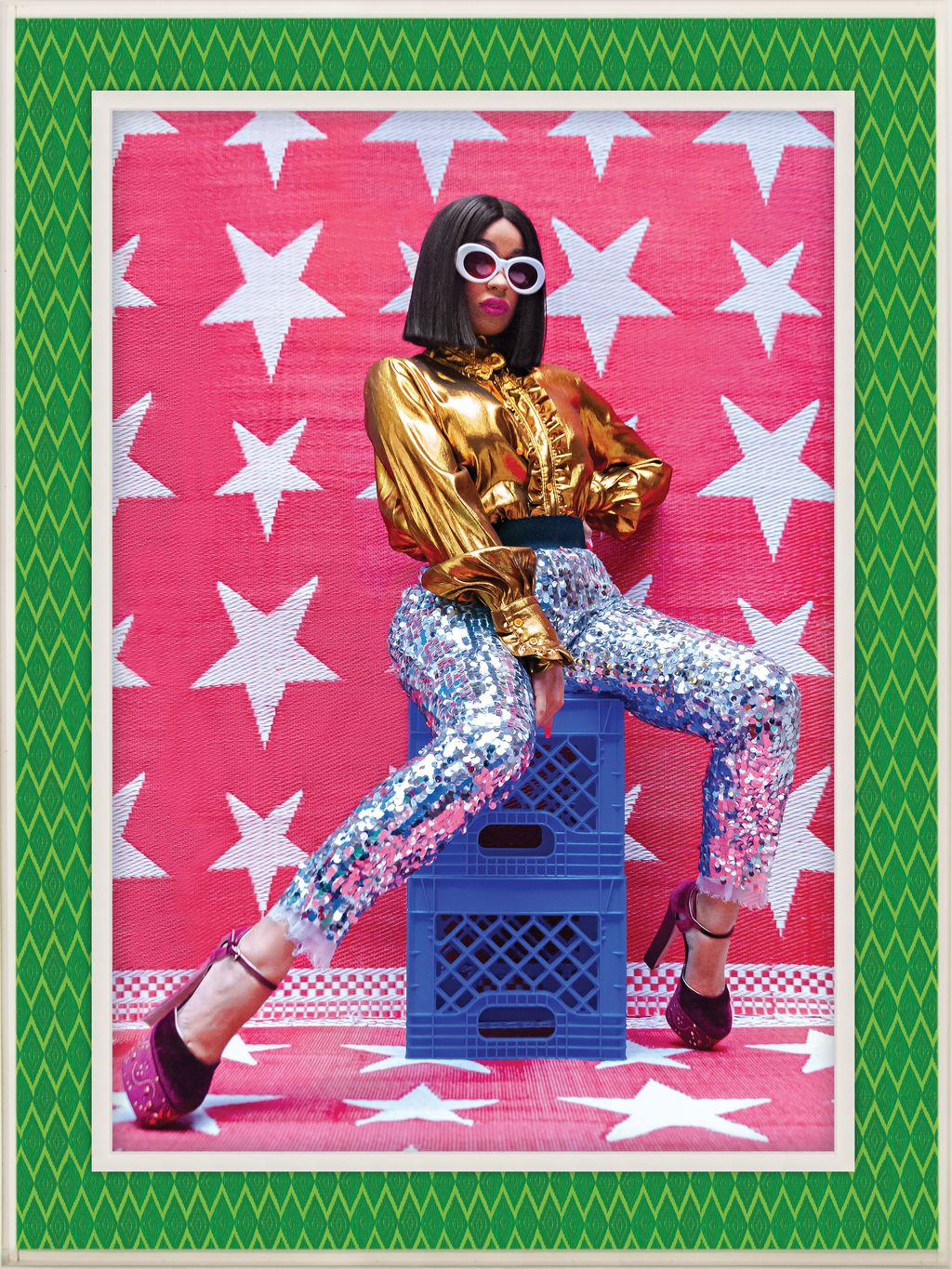 Belcalis Almanzar was born in October 1992, in the Highbridge neighborhood of the Bronx, the daughter of two immigrants: a Dominican father, a former cabdriver she describes as "a suave Dapper Dan," and a strict Trinidadian mother, who worked as a cashier. She spent — and still does spend — a lot of time at her grandmother's apartment in Washington Heights and with her younger sister Hennessy, who has her own Instagram hustle going. (Cardi's name stems from her nickname, Bacardi; the family is a nicely rounded-out bar cart.) Growing up, a lot of people liked her, she says matter-of-factly, "but a lot of people used to not like" her. Even then, as a student at the Renaissance High School for Musical Theater & Technology, she was a big personality, skipping school to go to hooky parties in the neighborhood. And, maybe, to hang out with a certain crew. When I ask her directly whether she's affiliated with the Bloods, she demands to know where I've heard that. I cite a recent Fader story that intimated as much with a discussion of her love for the color red, her neighborhood crew, and the razor blade she kept on her — well, between her … never mind — for safety.
"I used to carry it in my mouth," she says. "I'd carry a gun, but it's New York! We caint!" she jokes, then adds, "But I get threats. I always have a little schomthing on me. That's just how I was raised."
After high school, Cardi enrolled at the Borough of Manhattan Community College and took some courses in history and French while working as a cashier at an Amish Market. Her manager suggested she might make more money across the street stripping at New York Dolls Gentlemen's Club. She wanted to make enough to escape a bad relationship. But it turned out she loved stripping; even now, she still talks to her "homegirls" via group text every day. "I get really happy when people see me perform and they're rapping my music, but it's a different feeling when you're dancing and the men throwing you money because you look good," she says. "It's just like when the rice is getting thrown at the bride."
"That shit really make you feel powerful," she says. "It's the power of the pussy. It's just like you've got to finesse it."
She pauses to evaluate me.
"You know what, girl? I can tell you struggle with this. So I'm gonna just tell you this. If a guy asks you if you want something, don't be shy and be like, 'No …' Say yes." Cardi is getting louder. "Say yes to everything. 'You want me to buy you some food?' Yes. 'You want me to buy you a car?' Yes." And yet Offset, who had his own recent meteoric rise, isn't bankrolling Cardi. He has, in fact, said, "Cardi can buy her own shit," as a point of pride.
Cardi resists labels like "feminist" because she doesn't feel like it applies to her. "You know what? I'm not even gonna consider myself nothing," she says, her finger pointed at the ceiling, in sermon. "Here's the thing that bitches got me fucked up when it comes to that word. People think that being a feminist is a bitch that, like, went to school. They wear skirts all the way to their motherfucking ankles like a goddamn First Lady. That's not being a feminist. Being a feminist is being equal to do what a man do. Niggas hustle, and I hustle niggas." She's now jabbing one Offset-talon at me for emphasis.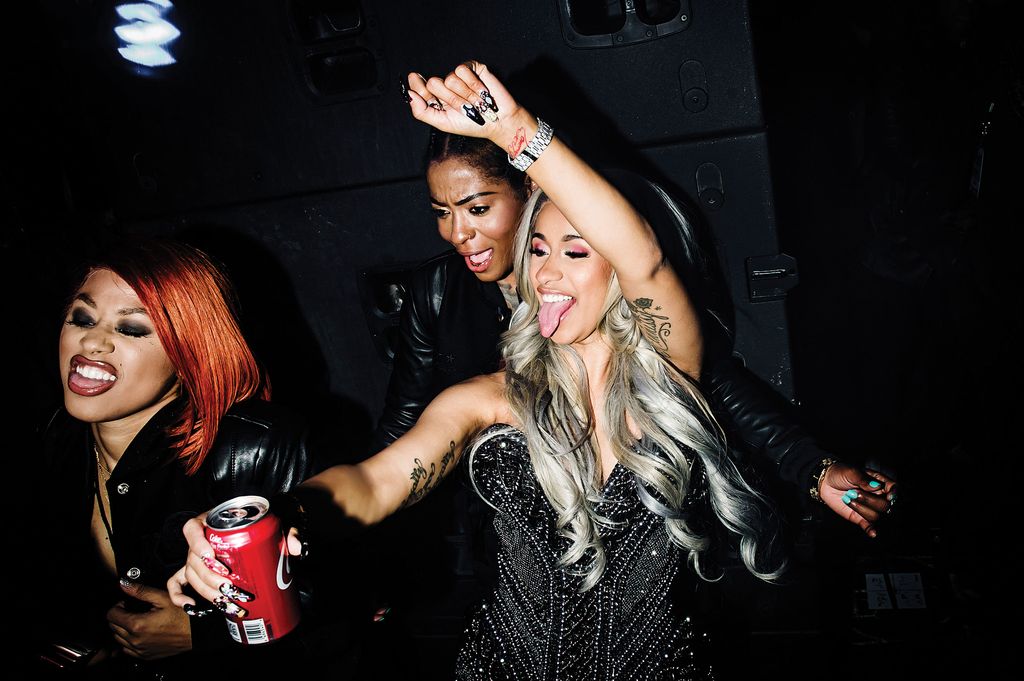 Cardi moved up quickly through the ranks at the clubs where she worked. I doubt that what made her a popular exotic dancer — and since I've never entered a Champagne room with her, this remains only a theory — has to do with any sort of traditional, heavy-lidded seduction. Her sex appeal is about enthusiasm, and even humor. Even the way she talks about sex with her fiancé is sort of goofy. In a recent video of the two of them, he gives her flowers, and she replies, "You want the neck?" referring to the … depth with which she's offering to express her emotions.
Eventually she began hosting parties on top of stripping, getting paid to "get things turnt up." Her sister Hennessy says, of their prefame years, "Whenever we were at a party, there was always a circle surrounding us. It's sort of perfect that people want us to do it for money now." But you can only get so famous inside of a club. In 2013, Cardi began making Vine and Instagram videos and grabbed 80,000 quick followers for her grainy, stream-of-consciousness videos about her life, studded with quotable advice on sex, power, and money. ("You fucked it? You liked it? Okay, then you're my man and I'm your girl.") She was often in a shower cap, in her Bronx apartment, just riffing on what she was buying at the bodega (frozen White Castle burgers) or how she paid for her $5,000 boob job ("These Russian girls taught me how to hate men and how to hustle them"). An early viral favorite from 2014 shows Cardi dressed to the nines in about three inches of fabric, promoting a party in Canada in winter. It's obviously freezing out, but, as she hams to the camera, "a hoe never gets cold." Eventually, she caught the eye of casting directors on Love & Hip Hop, VH1's sprawling reality show that follows the drink-throwing melodramas of musicians and producers.
Cardi — or the "regular, degular, shmegular girl from the Bronx," as she memorably called herself in one episode — was a breakout star for the two seasons she was a cast member. Confessionals on LHH tend to sound like fake infomercials for Manufactured Drama and Rehearsed Pith, but she gave natural, messy, wild sound bite after sound bite, with innate comedic timing and a wide-eyed look that renders the constant stream of profanity — and acuity — all the more surprising. "I'm an emotional gangster. I cry once every month," she told the camera sincerely. Or: "I'm being nice to you. Have I staaaabbed you? No," she said to someone she was fighting with. She also brought a refreshing flip to the sexual power dynamics on the show. Where other cast members might yell, in a confrontation with another woman, "I'm the girl that's screwing your man," Cardi framed it as "Your man was eating my pussy."
The most viral Cardi line from that season, however, was "If a girl gonna have beef with me, she gonna have beef with me — [pause, dramatic turn] — foreva." She realized it actually sounded a little like a hook, and she wrote it into her first single, a song called "Foreva," from the mixtape she dropped in March 2016, Gangsta Bitch Music Vol. 1. Rap had been a goal, she says, ever since high school. In fact, she was hesitant to do LHH because she feared getting stuck in the reality-TV trap: With some exceptions, most cast members earn attention for their failure to launch; it's a running joke about the series. And, as predicted, people didn't take her music seriously, even when, nine months later, she released another mixtape, Gangsta Bitch Music Vol. 2, with a second single, "Lick," featuring the more established Offset. And so she hustled. "I'd go play parties in every state," she says, "and I would wake my ass up at six in the morning to go to a radio interview, meet radio programmers, and beg them, 'Please play my song.' They didn't play my shit."
Then came "Bodak," a song Cardi never thought would take her as far as it has. (Her producer, however, has said that he knew in the studio it could break through.) Complex, the rap world's paper of record, urged people to seek out the "extraordinarily catchy record." The New York Times called it "funny and self-aware and savage." Celebrity endorsements (Beyoncé, Nicki Minaj, Missy Elliott, Lil' Kim) came fast. Alexander Wang booked Cardi to play the coveted spot at his New York Fashion Week after-party. Her Instagram videos are now shot in greenrooms, the back of her Bentley, or her three-bedroom, two-bath condo in Edgewater, New Jersey. Instead of a shower cap, she's wearing Balenciaga, Fendi, haute streetwear brands like Off-White — as well as the favorite Insta-brand of voluptuous women, Fashion Nova, which allegedly pays her $20,000 a month to promote it. (Designers never used to lend her clothing, but when Vogue called her the "undisputed front row queen" of Fashion Week, that changed.) Financial advice is a new theme, as is her take on whether the rich really are different from you and me. ("People can have all the money in the world, and they still steal your phone charger and your lighter," she said recently to the camera with genuine incredulity.) Charlamagne Tha God, the influential radio host who first put Cardi on his morning show The Breakfast Club when she was pushing a jokey single called "Cheap Ass Weave," calls Cardi's story a great American come-up. "It's a classic example of a person of color coming from the hood and defying all odds."
Cardi is supposed to release her first full album soon, if she can find enough time in the studio to record music that's going to sound "whatever the fuck I wants it to sound like," as she describes her style. She's worried about the expectation of matching the success of "Bodak Yellow," and that's gotten in her head. Besides, her studio sessions are squeezed in between dozens of appearances, sometimes taking place in the wee hours before sunrise when she has a 10 a.m. flight to catch. Her team is always whispering urgently about needing to get her in the studio, pronto. She'd been so busy performing that she hadn't even found the time to celebrate her engagement, she told me two weeks after it happened. Offset got down on one knee, onstage during a concert in Philadelphia, and gave her an eight-carat teardrop-diamond ring reported by TMZ to have a sticker value of $550,000. (A fan recently noticed Cardi wasn't wearing the ring in a video she posted to Instagram of a concert in New Orleans. "I ain't getting Kim K, bitch," Cardi replied in the comments. "I ain't using it in a city that I don't have a weapon."). "The way I wanted to celebrate was just get real drunk and make love, and we haven't even had sex after I got my ring!" she tells me. The two of them had met after Offset direct-messaged a friend of hers. He wrote, succinctly, "I want Cardi." "I told her to tell him I don't date rappers," she says. They later connected at a party, where it turned out that she did.
Some might look at her story and see a playbook to follow. But Cardi is uninterested in being an inspiration. "A lot of bitches just think like, Oh, if she can do it, you can do it too. Nope," she says flatly. "It's not even about followers. It's just a personality." She begins to address some imaginary aspiring Cardi B dupe, getting more and more worked up. "You can't even suck dick like I do. I am Cardi, sis."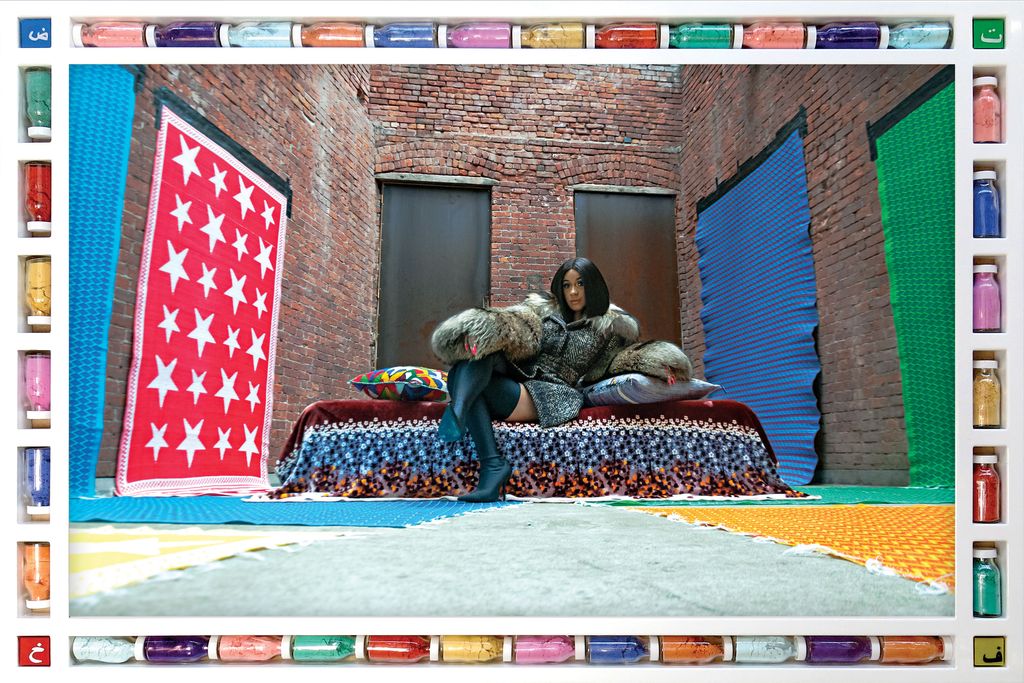 The crowd waiting in line at 10 p.m. to see Cardi at a Howard University homecoming party at Washington, D.C.'s Echostage club is clad in their finest Fashion Nova and has just erupted into "Bodak Yellow," a cappella, in anticipation. Three hours later, that same crowd is still waiting. Fights are breaking out; DJs can no longer trick the audience into thinking Cardi is coming out at any moment. (She's at the hotel, still getting her makeup done.)
She finally takes the stage in a SpongeBob SquarePants jacket at 1:30 a.m., runs through her three hits, in chronological order — "Foreva," "Lick," "Bodak Yellow" — and then adds her verse from the G-Eazy song "No Limit" to the lineup ("Swear these hoes run they mouth, how these hoes out of shape?") and walks backstage, finished.
When I enter, Cardi's propped up on an orange leather couch with her eyes closed. She lifts her head, looks at me through squinted eyes, sneezes three times, and motions for me to sit next to her.
"Man, I didn't know this week would be so much," she says in a stuffy-nosed voice to nobody in particular.
A tall, older gentleman, a member of tonight's entourage, clucks in concern and makes her tea. "Oh, thanks, love," she says in a fake British accent, takes a sip, and recoils. "Ew! What is this?" She sets it on the ground.
Cardi's mood is turning toward 3 a.m. exhausted existentialism. She's a person who has, by any measure, made it, and yet everything about her job seems hard.
"You be seeing these artists going through their meltdowns and fucking shit, and you be like, Why you doing all of that? You're famous, you're a fucking millionaire, why? Bitch, I'm broke, I want to shave my head." She laughs. "Then when you in those shoes, it's just like, I see why people go crazy. This shit is not what it fucking seems." She pauses. "But I can't complain."
But she goes on to do just that. Even with a Sony publishing deal, she's still accused of using a ghostwriter and facing the one-hit-wonder question. Charlamagne, the radio host, says, "I don't think she's a good rapper yet, not technically. But people feel her."
"I hate that people are trying to make excuses as to why it went No. 1. You know why?" Cardi says. "Because every time you hear it, your pussy pops. Your dick, it get up. Stop trying to discredit it."
She sighs and credits her obsession with what people are saying to her Libra nature. "Music never felt like a job. Now it's just like people waiting to see if I fail. I just want to be an artist, I don't want to be no fucking queen. I wanna hear myself everywhere. I would do fucking elevator music."
And yet, when I ask what else is on the horizon, Cardi is less devoted to her muse. "I'll do something that brings me a check," she says. "The faster I make a lot of money, the faster I can have these kids I want." Making that shmoney, as she often calls it, sometimes seems at odds with making her record, proving wrong those whispering rap snobs. But she isn't rich enough to abandon what got her here, those party appearances that net her $50,000 per gig these days. Right now, she knows, performing "Bodak Yellow" in as many places as possible is definitely where the shmoney is.
The next time I see her is back in New York to watch her perform "Bodak Yellow" yet again. She's dressed as Cruella de Vil — Bruella de Vil, actually — at a Bacardi-sponsored Halloween party at House of Yes in Bushwick. She enters with her back to the crowd, refusing to greet the cameras on the step-and-repeat until her hot-pink lipstick is touched up and her Black & Mild cigarillo is lit for effect. While she does video interviews, the rest of us — her dad, cousin, stylist, and Atlantic team — are shooed to a small hallway of a dressing room, crammed together with a spread that indicates she hasn't gotten a rider together yet (or that her rider demands cold chicken nuggets and lots of rum). And then it's time for the show.
"Hi, poor people!" she jokes, eliciting screams before breaking into her set, which now includes "MotorSport," a new track from Migos that she's featured on.
"I like this! I am having fun!" she yells. It really seems like she is. "I love playing a character! Now, let me give y'all the shmoney," she says, turning her back to the audience and throwing a look over her shoulder. And then "Bodak Yellow" starts up, again. She performs it with remarkable enthusiasm, remembers to thank Bacardi, and ends the set with a self-satisfied "Blap." Then, check earned, she is out the door, into the burnt-orange Bentley she bought herself, and her father drives her back to the Bronx.
Top image: Blouse by Bally; Pants by Dolce & Gabbana.
Production credits: Styling by Kollin Carter. Makeup by Erika La' Pearl. Hair by Francisco Maymi. Artist Assistant: Jenny Rebecca McLaughlin
Art Assistant: Ebon Heath.
*This article appears in the November 13, 2017, issue of New York Magazine.