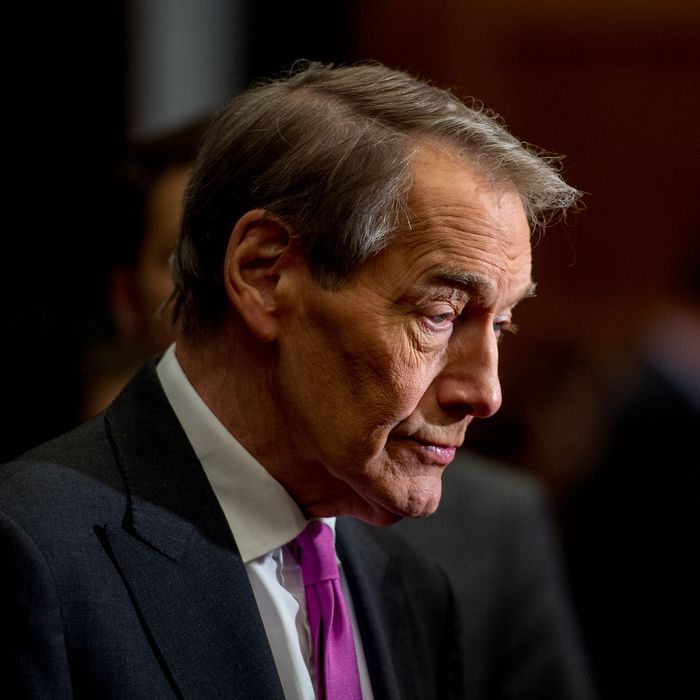 Charlie Rose.
Photo: Roy Rochlin/Getty Images
CBS wasted little time dealing with Charlie Rose, firing the CBS This Morning co-anchor Tuesday less than 24 hours after the Washington Post published its report detailing allegations of sexual harassment and assault by Rose. But the Eye network now has another problem: How to fill the gap left by Rose's sudden departure. While This Morning is hardly a ratings juggernaut — it's a perennial third-place finisher in the Nielsen ratings — the current incarnation of the program has actually become something of a success story for CBS. Since Rose, Gayle King, and Norah O'Donnell teamed up in 2012, This Morning has seen the gap separating it from NBC's second-place Today shrink from a yawning 3 million viewers to a much more modest 647,000 viewers at the end of last season. It's the closest a CBS morning show has been to NBC or ABC in at least 30 years. Not surprisingly, CBS News chief David Rhodes and other Eye execs aren't talking yet about their plans for life after Rose. But that doesn't mean it's too soon to start thinking about what options the network might have. Based on discussions with a couple of TV industry insiders, as well as our own instincts, here are three of the most likely paths CBS might take.
Look to the CBS digital farm team.
Streaming-only news service CBSN has taken on an increasingly important role within CBS in recent months as the network leans into its digital future (see also: CBS All Access). Over the summer, a newsmagazine featuring CBSN reporters aired as part of the Eye's prime-time lineup, while last year, CBSN anchor Elaine Quijano was tapped to moderate the vice-presidential debate between Mike Pence and Tim Kaine. It would thus be quite logical for Rhodes to pluck someone from CBSN to fill Rose's spot. Not only would it underscore how seriously CBS takes CBSN, it could also serve as a great promotion for the digital network. A CBSN anchor or reporter who took over from Rose could also easily continue to pop up on CBSN, perhaps even anchoring a third hour of This Morning exclusively on CBSN.
Quijano is one obvious CBSN contender for Rose's gig (though she got mixed reviews for her performance as debate moderator.) Another rising star at CBSN who might work on This Morning is Vlad Duthiers, a Peabody- and Emmy-award-winning reporter known for his coverage of the Ferguson Black Lives Matter protests and the 2010 Haiti earthquake and humanitarian disaster. And while he's young (under 50), he has a decent amount of international and domestic reporting experience under his belt. The same goes for CBSN's Reena Ninan, who has similar overseas reporting chops as well as morning-show experience (she co-anchored ABC's World News Now for a bit before coming to CBS last year). It's also possible, of course, that CBS could go with another one of its anchors or correspondents not particularly tied to CBSN. But if recent history is any clue, Rhodes and his boss, CBS CEO Leslie Moonves, will try to find Rose's replacement from inside the network.
Go for a big name.
One way to close that shrinking gap separating This Morning from second-place Today would be to shell out big bucks for a journalism superstar. Someone with a significant fan base could recruit new viewers to the CBS breakfast show, justifying the extra salary such a ploy would require. One name buzzing around Twitter this week has been that of NPR's Terry Gross, a master interviewer with a rabid fan base among NPR listeners who also fits the Rose mold (serious journalist, respected among elites). It's the longest of shots, but Rhodes could ask King to convince best friend (and 60 Minutes special correspondent) Oprah Winfrey to get up early and join This Morning. (Reality check: This isn't going to happen, but wild speculation can be fun.) CNN's Anderson Cooper technically isn't available, having signed a new deal with his the all-news network last year. But with Cooper already doing 60 Minutes stories, perhaps something could be worked out between CBS and CNN. (Or maybe CNN wouldn't be too sad to see Cooper leave prime time: His two-hour nightly show finishes a third in viewers and the key news demo, losing to both Fox News and MSNBC.) Other possibilities: Diane Sawyer, Bryant Gumbel, and Bob Costas.
Still, the star strategy seems unlikely.  CBS, which once paid tens of millions to grab Katie Couric away from NBC News, has largely withdrawn from the TV news talent wars. Yes, it did coax Jane Pauley out of TV semi-retirement to take over Sunday Morning. But most of its recent vacancies have been filled from within. Jeff Glor, the incoming anchor of The CBS Evening News, is hardly a household name. And outside of Washington beltway circles, John Dickerson was pretty much unknown before taking over Face the Nation. CBS these days seems inclined to look inside its own house for most vacancies rather than risk significant money on big "personality." Of course, if an interesting name suddenly becomes available, CBS execs would almost certainly consider making a play. But it's more likely that whoever replaces Rose will not be very famous.
Do nothing.
The main reason CBS hired Rose to co-anchor the mornings was to draw new attention to what had long been the network's most troubled time period. For decades, nothing Eye execs did — and they tried just about everything, including turning the show over to the entertainment division and bringing in a studio audience —  had much success. Hiring Rose was not a bid to bring in some big TV superstar — think Katie Couric or Anderson Cooper — with a massive fan base. Instead, it was a move meant to signal to audiences that CBS was serious about bringing hard news back to mornings, that folks who listened to NPR and, yes, watched Rose's show on PBS, would have a place to go as NBC and ABC's morning shows continued their rush to see which could offer the least amount of substance. It worked: As noted earlier, This Morning is in its best competitive position in decades.
But while Rose's interviewing skills and awkward charms were obviously part of the mix that helped the show hit its stride, he was hardly some sort of heroic savior without whom This Morning will collapse. What's more, NBC's Today has long thrived with just two anchors, while ABC's Good Morning America had two chief anchors before Michael Strahan came onboard full-time last year. Letting O'Donnell and King handle the show themselves would also save money, no small thing in an age of ever-shrinking network bottom lines. Oh, and it would send a perhaps not-subtle message: Two women can do just fine anchoring a morning show themselves.