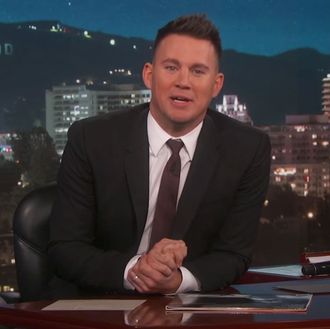 If you haven't heard, Jimmy Kimmel has had kind of a big year, what with taking the GOP to task over their messy health-care policy and all. The bud of his political activism was his son's ongoing treatment for a heart defect, and this week Kimmel's been forced to miss his daily show after his child's second open heart surgery was postponed. Heartbreaking, yes, but there is one silver lining. Some very charming guest hosts have been filling in (see Tuesday night's appearance by "Dave Grohl Letterman") and last night's may be the suavest of them all. Enter former stripper and Broadway producer Channing Tatum, who danced his way into hosting duties.
Apparently Tatum was "nervous" about the spotlight, so guest Ellen DeGeneres came backstage to encourage him to loosen up through dance — since she invented dancing herself. Reminder, Tatum knows a thing or two about grooving.
Still, he was unsure about his abilities to host a late-night show, so Tatum asked for help from kids Gilbert and Bob on how to make sure he could be entertaining enough. Their advice included solid jokes ("How does Lady Gaga like her steak? Raw, raw, ra-ra-raw") and tips on what to say if an interview seems to be dragging ("Sorry to interrupt, but can you make this more, like, entertaining?").
While Kimmel is out, he's encouraging people to send in videos of them telling their kids they ate all of their Halloween candy, which Tatum then naturally did to his own daughter. Needless to say she didn't find it very funny.
Clearly Tatum has a knack for this thing, so here's hoping he returns to host, just under more favorable circumstances.