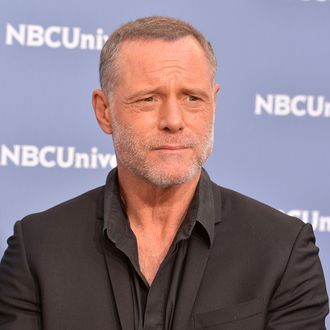 Photo: Slaven Vlasic/Getty Images
Jason Beghe, the lead in Chicago P.D., was previously investigated by NBC for volatile behavior, according to Variety and Deadline. After multiple complaints were filed against the actor detailing aggressive incidents and offensive comments, the network reprimanded Beghe and, according to Variety, assigned the star an anger-management coach. NBC, Universal Television, and Wolf Entertainment issued a joint statement:
"When it was brought to our attention that there were concerns about inappropriate behavior on set, we promptly began an investigation in partnership with Human Resources and all parties involved. As a result of the investigation, we have already taken action, and it is a situation we continue to monitor very closely to ensure all of our employees feel safe and supported."
Beghe did not deny the allegations regarding his past actions. "I am deeply sorry for my behavior, which I know has been hurtful to my friends and colleagues," he said in a statement. "I have struggled with anger issues for some time, and over the past year, I have been working with a coach to help me learn how to mitigate my temper. It's an ongoing process, and it has been a humbling one. It is a source of great pride for me to be part of Chicago P.D.'s incredible cast and crew. I have personally apologized to anyone who I have upset, and I am committed to doing what is necessary to make up any damage that I may have caused."
Both Variety and Deadline report that inside sources told them that Beghe's temper and behavior contributed to Sophia Bush leaving the series at the end of last season. At the time, the actress left her reasons for wanting out as vague. "I left because I wanted to. End of story," Bush wrote on Instagram. Earlier in November, Bush was one of the many One Tree Hill actors to sign her name in an open letter detailing an alleged pattern of misconduct by series showrunner Mark Schwahn.