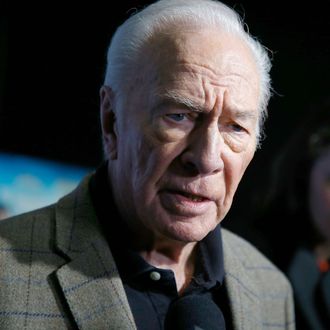 Christopher Plummer.
Photo: John Lamparski/WireImage
After several men accused Kevin Spacey of sexual assault, Ridley Scott decided to cut Spacey's prosthetic-heavy performance from his upcoming Getty movie All The Money in the World and replace him with Christopher Plummer. Plummer is expressing dismay at the circumstance: "I think it's very sad what happened to him. Kevin is such a talented and a terrifically gifted actor, and it's so sad. It's such a shame," Plummer told Vanity Fair at the premiere of The Man Who Invented Christmas on Sunday. "That's all I can say, because that's it." Plummer was Scott's first choice to play the infamous industrialist, and much of the cast will reconvene for him to shoot his new scenes. "It's really not replacing [Spacey] — it's starting all over again. Although the situation is very sad," Plummer said. "I'm very saddened by what happened to Kevin, but what can I do? I've got a role. I admire Ridley Scott and I'm thrilled to be making a movie for him. And so I thought, that was it. Ages ago I was in contention for [the role], way back. So I was familiar with it, and then Ridley came to me and I agreed. I wanted to work with him. He's very good. I loved the script. The script is wonderful." Now, it's just a race to make sure the movie gets out before the Danny Boyle's Getty-focused limited series for FX.