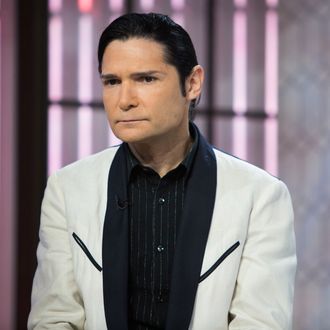 Feldman.
Photo: NBC/NBCU Photo Bank
For years, Corey Feldman has discussed the widespread "pedophile ring" in Hollywood that he says targeted him as a child star in the business. He is currently trying to raise $10 million through a crowdfunding initiative called "Corey Feldman's TRUTH Campaign" to make a film about the issue. In all his years as a public figure, Feldman has never named any of his alleged attackers. That changed in a new interview on The Dr. Oz Show, in which Feldman says the actor John Grissom molested him in the 1980s. Grissom's only two screen credits are License to Drive (1988) and Dream a Little Dream (1989), both of which starred Feldman and his superstar screen companion, Corey Haim. At the time License was released, Feldman would have been 17 years old.
In Feldman's 2013 memoir Coreyography, the actor described instances of molestation, but changed the names of his alleged assailants. Grissom's name, however, has come up in speculation online about who those unnamed men might be.