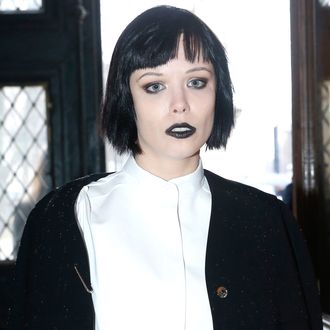 Photo: Bertrand Rindoff Petroff/Getty Images
Continuing the ongoing war of words between Crystal Castles' Ethan Kath and ex-member Alice Glass, TMZ reports that Kath has now sued Glass for accusing him of rape. Kath is suing Glass for defamation after the singer accused her former bandmate (whom she previously dated) of rape and psychological abuse that she says lasted ten years, beginning when she was 15. Kath, who denied the allegations, now tells TMZ that Glass violated the terms of a cease-and-desist letter he'd previously sent her after she alleged he owed her royalties. Following her departure from the band in 2014, Kath made comments that minimized her role in the group's music, sparking a contentious, public back-and-forth between the two artists.
In a statement to TMZ, he now says, "Alice and I had a long ongoing relationship both personal and professional. When she suddenly left Crystal Castles to handle her mental health issues and substance abuse issues I fully supported her. I will continue to support her quest to wellness but I can't support extortion, false claims, and accusations put forth after the band attained new success without her." Kath claims that Crystal Castles was forced to cancel a tour because of Glass's latest allegations, which allegedly cost the band $300,000.