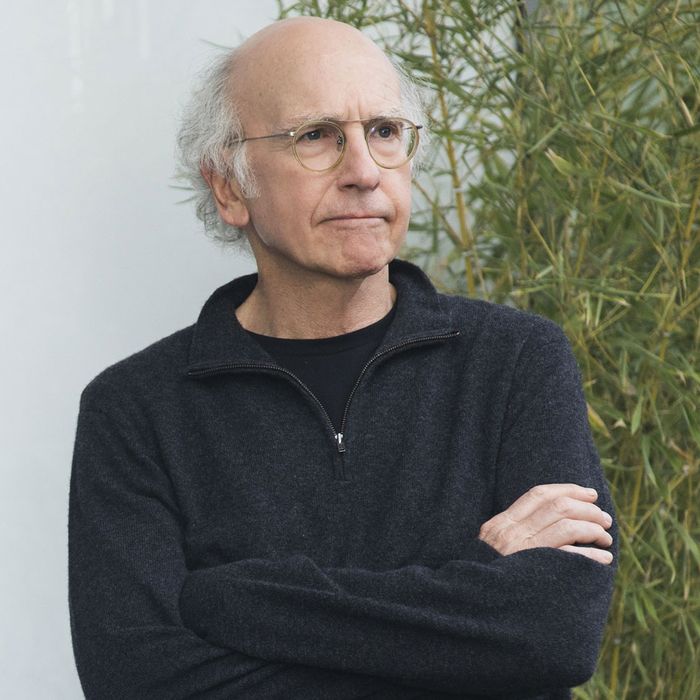 At last, good news abounds for Larry David. Not only is he vindicated as a Good Samaritan — an overt inversion of Jerry, George, Elaine, and Kramer's condemnation in the Seinfeld finale — but it looks like Fatwa! the musical is a go, now that he's got the muftis' collective blessing. That is, if he can get Lin-Manuel Miranda to star in it, which may or may not be setting up a bravura guest appearance in this season's conclusive episode.
But that's still two weeks away, which is why it's all the more surprising that Curb executed its most crowd-pleasing sequence in some time tonight. Kym Whitley (as Monina the carpooling prostitute); Mo Collins (as the nurse with the big vagina); Anita Baron (as "Denise Handicapped"); Greg Watanabe (as Yoshi, disgraced son of a fraudulent kamikaze); the inimitable Iris Bahr (back as Orthodox nemesis Rachel Heinemann); Chris Williams (as everyone's favorite "muthafucka" Krazee-Eyez Killa); and Michael J. Fox (as his clomping self) appear in succession with accounts of their encounters with L.D. Although the person most in shock is Morsi (O.G. Homeland baddie Navid Negahban), the Iranian mole busy taking inventory of whether Larry has lived up to the Ayatollah's standards. As it happens, Larry's lack of loyalty to his people, shameless slavishness to self-interest, and astute suspicion of strangers and neighbors alike serves him well in the tribunal's estimation. Aptly, it is his preposterous defense of Morsi's selfishness on the Herringbone buffet line — everyone knows you wait 'til people have had their first pass before getting seconds — that set him on the path to forgiveness.
On the other hand, he has a much harder time earning the trust of those closest to home, especially his not-quite girlfriend Bridget and Funkhouser's on-again, off-again lady Marilyn (nice to have icy Elizabeth Perkins back). Bridget wishes she could have revoked their gratitude sex after Eddie was denied access to Pemberton Academy because Larry's handyman Cesar (and let's not forget Little Cesar) loused up the school pool. How we got from Cesar having "flipped the tip" earlier to insinuating his family into the grand scheme of shipping Eddie off to boarding school remains unclear. Hemky Madera (recognizable from Ash vs Evil Dead and Queen of the South) is broadly hilarious, but the escalating stakes in their game of indebtedness never really pay off. The funniest outcome of Larry's fallout with Bridget is that her ire rises to the point of a "go-home argument" at Eddie's rejection, but not at Larry's insistent incredulity at his Asperger's diagnosis.
At least in that case, he makes an effort to go after her, even if it ends in a tip-tossing tantrum with Morsi's offended driver (Usman Ally, late of a long arc as Serena's boyfriend in Veep). When Marilyn leaves Herringbone in a huff over her "go-home stain" of ketchup, he can barely shrug. In lieu of Susie's presence, Marilyn makes a great return foil for Larry. The sight of her defiantly stuffing her face with home fries — isn't that what America is all about? — to spite Larry, who's pushing her buttons mostly to antagonize Funkhouser, is worth waiting in line for.
As a sort of hat trick in the category of completely alienating the opposite sex, Larry quickly ceases scoring points with the female Pemberton admissions person (and, in fairness, her male colleague) by summing up his future with Bridget thusly: "I see it going, hopefully, one day, to the point where I'll let her sleep in the guest room." Alas, they were hoping for more of a commitment before pulling a favor and letting Eddie in, despite Larry's generous donation of Seinfeld memorabilia over the years. Then again, his assistant really handled all that. Maybe Cesar was right: Maybe Larry is the one who has the principles of decency all backward. He is, after all, so single-mindedly consumed with sex since splitting with Cheryl that he pins Eddie down and declares, "You're gonna go to sleep, and I'm gonna have sex with your mother." Hopefully the kid doesn't "befoul" his pants.
Apart From All That
• If you've never seen Iris Bahr's hysterical, short-lived series Svetlana, track it down.
• I find nothing funnier than Funkhouser living it up.
• Hemky Madera kind of has a Latino Paul F. Tompkins look going.
• If Larry didn't want to commit to Cheryl through the afterlife, why would he want Bridget in sickness?
• Nice nod to Wanda Sykes's coming-out since the Krazee-Eyez arc.
• Eddie will be missed. (I'm assuming Larry and Bridget are kaput.)
• That whole tribunal is like something out of a bad Seinfeld ep., huh?