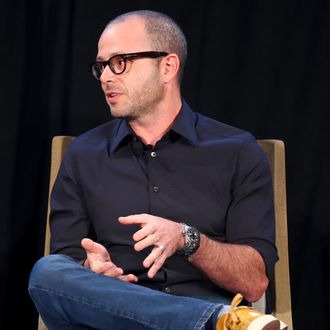 Photo: Joe Scarnici/Getty Images for Vulture Festival
Damon Lindelof has two compelling reasons for taking on a TV adaptation of the groundbreaking comic-book series Watchmen: He wants to pay homage to his father's passion for comics, and he doesn't think we should trust people who wear masks.
During a discussion with The Good Place creator Mike Schur at Vulture Festival L.A. on Saturday, Lindelof didn't reveal his specific take on DC Comics' dark, deeply influential series by writer Alan Moore and artist Dave Gibbons. But he did offer his motivations for tackling the material, which was among the first to portray, in starkly adult, social, sexual, and political terms, the serious and potentially catastrophic potential of superheroes existing in the real world.
"Watchmen — it was dangerous," said Lindelof. "And you can't be dangerous for dangerous's sake, but the reason that I'm doing this is these are dangerous times, and we need dangerous shows."
In the same way the source material completely upended all notions of how superheroes, social commentary, and literary artistry could fit together, Lindelof believes the current culture — more superhero-saturated than ever before, and fraught with real-world perils — is primed for a television take.
"What we think about superheroes is wrong," he said. "I love the Marvel movies and we saw Justice League this morning and I'm all for Wonder Woman and Batman and I grew up on these characters, but we should not trust people who put on masks and say that they are looking out for us. If you hide your face, you are up to no good."
Lindelof called Moore, who has famously and adamantly disavowed all attempts to adapt or revisit the characters he created but does not own, "the greatest writer in the history of comics, maybe one of the greatest writers of all time — and he most certainly doesn't want us to be doing this and we're trying to find a way to do it that honors him … That comic was written in the mid-'80s. It is more timely now, in 2018, 2019, whenever the show airs, if it airs, that it needs to be told. For a superhero junkie, I've never done a superhero movie or a superhero TV show, and now is the time.'
The Lost and The Leftovers c0-creator credited his father for sparking his own passion for comics: In the 1950s, Lindelof's grandmother threw away his father's meticulously organized comic-book collection while he was away at camp, and his father vowed to re-create his library — which included the gory, famously controversial EC Comics that inspired the "Tales of the Black Freighter" book-within-a-book segments of Watchmen.
"He used to bring me around to conventions all through my childhood, trying to reassemble his collection," recalled Lindelof. "So I had this huge love for comics and started reading them as a result of that experience."
His father cautiously gave Lindelof his first issue of Watchmen when he was 12 years old, probably too young but also mature enough to process it all. "It just crackled with electricity," recalled Lindelof. "It dealt with the psychological realism in the superhero genre that I had fallen in love with … When we were growing up in the '80s, our generation, we all tell these stories of 'Oh, I saw Poltergeist; I saw Jaws; I saw Porky's; I saw things on HBO that were too inappropriate for me. And one way of looking at it is that scarred us and it was completely and totally bad for us, but we talk about it in this very romantic way, that we were sort of looking above our pay grade, in terms of the material." Now Lindelof hopes the dangerous quality of the material will also entice a new generation of not-quite-ready-for-it fans.