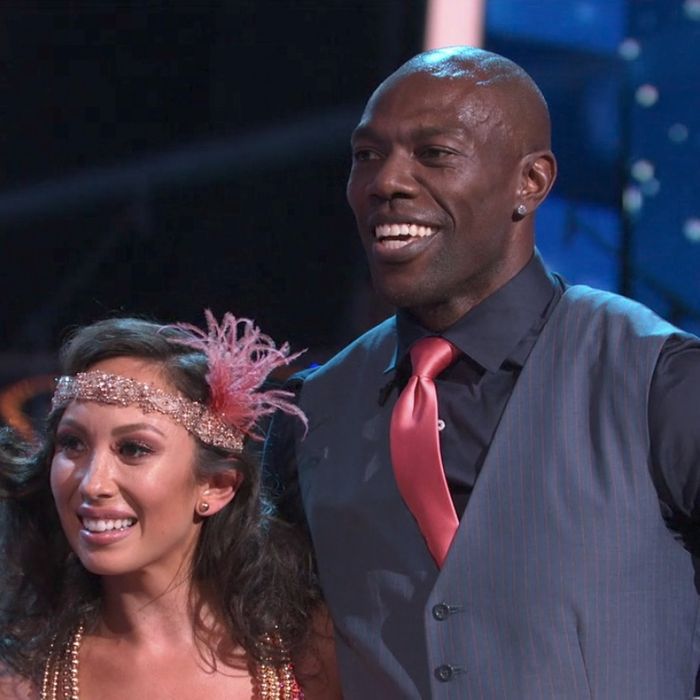 Monday is often vilified as the worst day of the week. The weekend has ended, the dreary grind of the workweek has begun, and a lot of Chinese restaurants are closed. But me? I love Mondays. While this has a lot to do with me enjoying a glamorous celebrity lifestyle chock full of caviar, Champagne, and private jets to Paris for brunch, it also has something to do with the fact that Monday is Dancing With the Stars day.
(Okay, full disclosure: I hate caviar, I don't drink, and the closest I've been to brunching in France was having a chili dog in front of the Paris casino in Las Vegas. But the "loving Monday for DWTS" part is 100 percent accurate.)
So, here I am again, on my couch, eagerly anticipating this week's episode. We've got TWO dances tonight: a regular couples dance and a special trio dance, featuring winners from past seasons. As the show begins, I feel a twinge of sadness, knowing that this is the first episode of the season that I won't be able to make fun of former contestants Nick and Vanessa Lachey. Do me a favor. If you're reading this and you know the Lacheys, please tell them that I miss them and I look forward to seeing them on Celebrity Wife Swap or some other dumb reality show in the near future.
NFL star Terrell Owens is up first, to dance a Charleston. Although I can no longer get enjoyment from mocking Nick's awkward dance moves, I can at least still glean pleasure from watching the super-hot Terrell shake his booty. He does a fantastic job and the judges agree, giving him three nines for a total of 27.
Drew Scott is up next, doing a waltz. Over the last two weeks, I was very hard on Drew. But it was tough love, written in the hope that Drew would read my critique of his dancing and work harder. Judging from his performance, it's painfully obvious he doesn't read my recaps, and he ends up with two sevens and an eight for a score of 22.
It's early in the show and I've already become distracted by judge Len Goodman's outfit. He's wearing a gray suit, a red and blue tie, and a bright-pink pocket handkerchief. I haven't seen that much clash since I looked at the album cover of London Calling. Someone needs to put a mirror in Len's dressing room so something like this doesn't happen again.
Coming to the dance floor is ESPN sportscaster Victoria Arlen. In her pre-taped segment, we see that Victoria had a back spasm during rehearsal this afternoon and her right side was temporarily paralyzed. Incredibly, she's recovered well enough to do an Argentine tango tonight. I'm extraordinarily impressed with her grit and determination, and also a bit ashamed of myself for taking a cab to the Starbucks across the street today. But in my defense, I DID have a cramp in my big toe.
Carrie Ann Inaba is complaining that Victoria looked down a few times during her routine. Hey, she was half-a-Stephen-Hawking this afternoon! Cut her a break, Inaba. Victoria earns three eights for a score of 24.
Here comes violinist Lindsey Sterling doing a samba. Last week, Lindsey had a painful rib injury, but she worked through it and is back this week.
These dances are so physical, it's amazing there aren't more injuries. I still remember back in 2008 when my friend, comedian Jeffrey Ross, was on DWTS and scratched his cornea during rehearsal. Ross is the only person I know clumsy enough to injure his eye during a dance routine. That's like losing a tooth while getting a haircut.
In spite of getting mixed reviews from the judges, Lindsey ends up with two nines and an eight for a score of 26.
Next is actor Frankie Muniz, coming off a perfect score of 30 last week. In his taped segment, Frankie reveals how insecure he felt coming into the show. He's so damned adorable, I could fall for him if he were just six inches taller and Terrell Owens.
Len gets boos from the audience for his cranky critique of Frankie's Viennese waltz. Maybe Len glanced down at his suit, realized how horrible his handkerchief looks, and is taking it out on the dancers. Frankie gathers two nines and an eight for a total of 26.
Singer Jordan Fisher is next, doing the quickstep. I have to tell you, this Jordan kid is so talented, it's a little bit annoying. Thank God he doesn't do stand-up. He'd probably be great at it, and I'd have to track him down and scratch his cornea.
Len has apparently made peace with his vile pocket handkerchief and gives Jordan a standing ovation and a 10. Bruno and Carrie Ann follow suit, leaving Jordan with a total of 30.
It's the Trio Round, and our dancers will be paired with former DWTS winners. Terrell is first, dancing with his partner, Cheryl, and season-one champion Kelly Monaco.
Terrell is doing the rumba with his shirt open, exposing a six-pack harder than a half-dozen cans of Bud at the North Pole. My anger about Len's pocket square is melting away as I watch Terrell's nearly shirtless shimmy. He gets three eights for a total of 24.
Drew and Emma Slater are dancing with season 24 winner Rashad Jennings, another hot football player. This is my lucky day. They do a "disco-inspired cha-cha," which is a phrase I hope to never have to type again. Disappointingly, Rashad leaves his shirt fully buttoned, and they receive two eights and a nine for a total of 25.
Next, Victoria and dance partner Val team up for a jive with Olympic gold-medalist Laurie Hernandez, winner of season 23. Laurie is 17 years old, which annoys me almost as much as Len's handkerchief and Jordan's talent do. When I was 17, my greatest accomplishment was being able to sneak back into my house at 2 a.m. without waking up my parents. Laurie, on the other hand, has already won Olympic medals and a DWTS championship. Victoria is still not fully recovered from her spasm, and she scores three eights for a total of 24.
Here comes Lindsey and partner Mark, doing a jazz dance with yet another Olympic gold-medal winner, Kristi Yamaguchi, winner of DWTS season six. They do a fantastic job, grabbing two nines and a ten, for a total of 28.
Next up is Frankie and partner Witney with fellow child actor Alfonso Ribeiro. Yeah, that's right, Carlton from The Fresh Prince of Bel-Air. And guess what? They do the Carlton Dance in their jive routine, so they should automatically receive a perfect score, right?! They get three nines for a total of 27, which is good, but THEY DID THE CARLTON DANCE! Come on, judges!
Finally, Jordan and partner Lindsay are teamed with Corbin Bleu, who is introduced as "Broadway star Corbin Bleu." No, no, no. Let's be real. He's "Corbin Bleu, the kid from the High School Musical movies." Anyway Jordan, Lindsay, and the kid from the High School Musical movies do a salsa, and it's great. Really great — as in, "it ain't fair to the other saps in this competition" great. Not surprisingly, they get three tens for a 30, and only because those judging paddles don't go up any higher.
It's ELIMINATION TIME! Terrell and Frankie are the bottom two … and the dancer going home is … Terrell Owens! Dammit! Did they not see his abdomen? I'm bummed, so this episode gets one star. But listen, Terrell, if you've got nothing to do next Monday, there's plenty of room on my couch.
Lisa Lampanelli can be seen in her play, Stuffed, at the Westside Theatre in New York City. For tickets, go to stuffedplay.com.