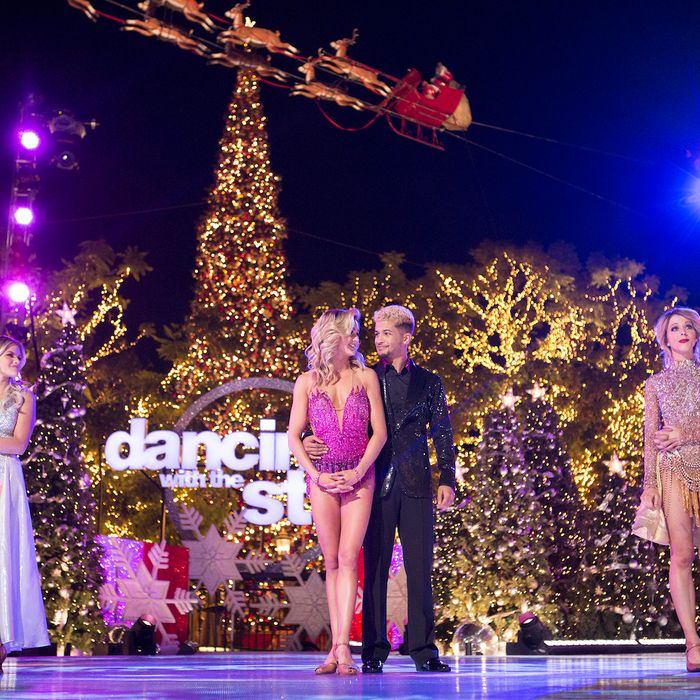 Nothing lasts forever. Relationships end, mountains crumble, people die. But nothing is harder to accept than a season of Dancing With the Stars coming to a close. It's not like I didn't see it coming. First Barbara was voted off, then Debbie, then Derek, then Sasha, then Nick, then Nikki, then Vanessa, then Terrell, then Victoria, and last night, Drew. Sure, I don't really remember a lot of these people now, but at the time, each elimination was a painful experience for me.
And now, we are down to the final three. There's Frankie Muniz, that adorable little Malcolm in the Middle guy. And I do mean little. He looks like you could fit him into a piece of carry-on luggage, which would be handy if you were traveling to Europe with him. Then, we have Lindsey Stirling, a violinist whom I had never heard of before this show — and probably will never hear of again. And last but certainly not least is Jordan Fisher, an incredibly good-looking, sweet, and talented performer against whom I am harboring a secret grudge because he is so good-looking, sweet, and talented. Okay, I guess it isn't exactly a secret now.
So, for the final time in 2017, I've got my butt parked on my couch, waiting to see Tom Bergeron's grinning face. Ah, there he is! Oh, Tom, how I'll miss you — at least until I turn on the TV tomorrow and catch a rerun of America's Funniest Home Videos on some cable channel. The opening number features all 13 contestants, and it's great to see them again, even the ones I don't quite remember. But enough of those has-beens, it's time to crown a new DWTS champion!
The three finalists are going to reprise their favorite dances from the season. Lindsey Stirling is the first to perform tonight, doing a jive to "Wake Me Up Before You Go-Go." I've always had a problem with this song because of that second "go." If a guy I was thinking about spending the night with ever said "Wake me up before you go-go," I'd say, "I'm getting the hell out of here-here," and sprint out the door. That being said, I love Lindsey's performance, and so do the judges, who give her three tens for a total of 30.
Frankie Muniz is up next, doing an Argentine tango in a pirate costume, which is probably good practice for him in case Johnny Depp doesn't want to do those stupid Caribbean movies anymore and they need a replacement. One thing I will NOT miss once this season ends is Len Goodman's pronunciation of the word "Argentine." He says "Argen-TINE," not "Argen-TEEN," which is more irritating than that second "go" in the George Michael song, even if it's accurate. Annoying Len and the other two judges give Frankie three tens for a total of 30.
This being a two-hour finale show, there's a lot of time to kill, so here comes country star Kelsea Ballerini to sing her new single, "Legends." Why? Who knows! There is no explanation offered, so I'm going to take this opportunity to flip through the channels to see if America's Funniest Home Videos is on anywhere. Nope. But I get back to the show just in time to see Kelsea wrap it up. Great job, Kelsea! Probably.
Here comes Jordan, doing a samba. Blah blah blah, he dances magnificently, blah blah blah, the judges love him, blah blah blah, three tens for a score of 30. Okay, I guess I have to get over my jealousy of Jordan's incredible dancing, singing, and acting talent. I just have to think of things that I'm better at doing than he is, like … stand-up comedy … and bra-shopping … and stand-up comedy. Did I say that one already? Well, I'm really good at stand-up, so I'm counting it twice.
I want to take a minute to give some props to the judges. Throughout the season, I've made fun of how cranky Len often is, and how he mispronounces words like Argentine. (And samba, which he pronounces "SAM-ba," as in the name Sam. Very annoying.) And then there's Bruno. Bruno is one of those people you see on TV who is always fun and entertaining, but you know that if you had him in your home for more than ten minutes you'd start chasing him with a fireplace poker. Of course, balancing out these two lunatics is Carrie Ann. She is just so soothing, I'm not even obsessing about Len's odd pronunciations anymore.
They're showing a lot of clips from performances throughout the season, and the former contestants are re-creating their dances from early in the competition. I'm not going to comment on these parts of tonight's show. If you wanted to know what I thought of these dances, you should have been reading my recaps from the beginning. So blame yourself, people!
Now a singer named Becky G is performing her new single "Christmas C'mon," accompanied by our own Lindsey Stirling on violin. As impressed as I've been by Lindsey's dancing, I'm even more impressed that she's managed to make a good living playing the violin. Makes me wish I had paid more attention during those clarinet lessons my parents made me take when I was a kid.
After several more musical numbers, it's finally the FINAL ROUND!
Lindsey is doing a cha-cha/tango fusion dance with her partner, Mark. Cha-cha/tango fusion sounds like a $15 cocktail you'd get at a Miami Applebee's. Lindsey nails it, even without a violin. She gets three tens for a total of 30.
Here comes Frankie with a foxtrot/tango fusion. He seems a little stiff, and the judges give him two nines and a ten for a total of 28.
Okay, I said I wasn't going to comment on any of the dances by the former contestants, but Barbara Corcoran is currently doing what could only possibly be construed as a dance to "Rudolph the Red-Nosed Reindeer." Perhaps it's because she's surrounded by hunky shirtless male dancers, but she seems completely lost. Watching this mini-train-wreck is far more entertaining than sitting through a Kelsea Ballerini song.
And here comes my pal Jordan doing a salsa/paso fusion — flawlessly, of course! He gets three tens for a total of 30. Good for Jordan! (Have I mentioned I'm very good at stand-up comedy?)
I'm ready for the big announcement! Who will win? Well, I'm gonna have to wait another three damn minutes, because they've trotted out Nick Lachey to sing a song while the three finalists glare at him as they murmur, "Finish it up, Mr. Boy Band! Let's get to the results!" under their breath.
Okay, Nick's finally done. It's result time! Third place goes to … Frankie Muniz! No big surprise. Now Frankie can go back to waiting for Bryan Cranston to agree to do a Malcolm in the Middle reunion TV movie.
It's between Jordan and Lindsey. And the winner is … JORDAN! Um, great! No, really, I'm happy for Jordan. I mean, with all that singing and dancing ability, and all that youthful exuberance and good looks, why wouldn't you also need a mirror-ball trophy? (I'd like to see him try and pick out a good-fitting bra, though.)
I'm giving this episode five out of five stars, mostly because I hope the producers see my high rating and put me on next season. Thanks for reading!