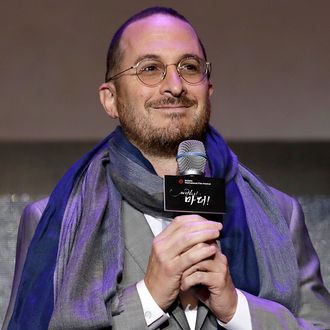 More like Darren Aronofs-TONY.
Photo: Woohae Cho/Getty Images for Paramount Pictures
Darren Aronofsky, an aficionado of scarves and existential terror, also loves himself a good show tune. That's according to Hugh Jackman, who invented show business and recently hosted a screening of Aronofsky's controversial mother! with Ellen Burstyn. "Darren loves a Broadway musical!" Jackman, who starred in Aronofsky's The Fountain, told the assembled audience, according to "Page Six." Now, first of all, there is no evidence of Jennifer Lawrence meeting Ben Platt backstage at Dear Evan Hansen for the world's most #relatable selfie, so we have our doubts about Darren's theater enthusiasm. But more importantly, if that mother! opera doesn't work out, he could always stage mother!: the musical! (all lower case, of course). Hugh Jackman stars as Javier Bardem's character. "That Sink Isn't Braced" is the act 1 finale; whoever plays the Michelle Pfeiffer part — my vote is Donna Murphy — steals the show with "Try My Lemonade"; and the theater burns down at the end! It'll run for eons.