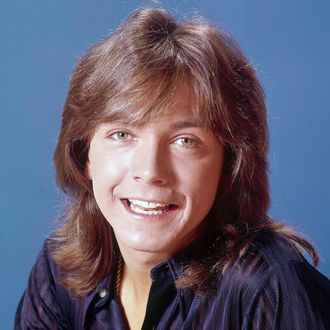 Photo: ABC Photo Archives/ABC via Getty Images
David Cassidy, an actor and singer who became a teen idol in the 1970s, died on Tuesday. He was 67. Last week, Cassidy was hospitalized in Florida, reportedly suffering from organ failure. A publicist has confirmed to Variety that Cassidy died as a result of complications from dementia.
Cassidy was born into a show-business family. His father, Jack Cassidy, was a Tony Award–winning actor who appeared on Broadway, television, and film. His stepmother was Shirley Jones, the Oscar-winning actress who would go on to play his onscreen mother in The Partridge Family.
Cassidy landed the part of the oldest Partridge Family son, Keith Partridge, in 1970 when he was 20 years old. The ABC series about a wholesome family band with five children and a widowed single mom became a hit and aired through 1974.
Cassidy served as the Grammy-nominated group's lead vocalist. He and Jones were the only actors to appear on the show that actually sang the numbers — the other children lip-synched. Singles from the show, including "C'mon Get Happy," "I Think I Love You," and "I'll Meet You Halfway," helped launch Cassidy's solo music career. Soon he was selling out stadiums and people in the media were referring to his feverish popularity as "Cassidymania."
His fame fizzled in the late '70s. After a short-lived sitcom, David Cassidy: Man Undercover, Cassidy transitioned to working mostly in musical theater. In the decades that followed, he had several parts on Broadway and did shows in Las Vegas.
In 2007, Cassidy wrote about his struggles in his personal life and in the entertainment industry with Could It Be Forever? My Story. Cassidy was married and divorced three times, and was open about his problems with alcohol and bankruptcy.
Earlier this year, Cassidy disclosed what he said was a years-long battle with dementia, which is what forced him to stop performing live music. He is survived by his half-brothers Shaun, Patrick, and Ryan Cassidy as well as his daughter, Katie Cassidy, and his son, Beau Cassidy.