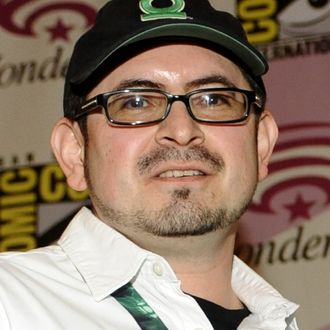 Eddie Berganza in 2011.
Photo: Tim Mosenfelder/Getty Images
UPDATE: DC Entertainment issued a statement saying that it has suspended editor Eddie Berganza, who was accused of sexual assault by three women, two of whom were former colleagues. The full release reads:
DC Entertainment has immediately suspended Mr. Berganza and has removed him from performing his duties as Group Editor at DC Comics. There will be a prompt and yet careful review into next steps as it relates to the allegations against him, and the concerns our talent, employees and fans have shared. DC continues to be extremely committed to creating a safe and secure working environment for our employees and everyone involved in the creation of our comic books.



In a BuzzFeed story published Friday afternoon, three women — two of them named, one of them anonymous — came forward to accuse Berganza, a longtime DC Entertainment editor, of sexual assault. The 53-year-old has worked for the company, a Warner Bros. subsidiary, since the 1990s. The first described incident occurred in the early 2000s when Berganza allegedly grabbed Joan Hilty, a DC employee at the time, at a staff gathering and attempted to make her kiss him. Another former DC employee, Liz Gehrlein Marsham, said Berganza stuck his tongue in her mouth, then later attempted to grope her, at a staff party in 2006. At an Anaheim Comic-Con in 2012, Berganza allegedly stuck his tongue in the mouth of a different woman, one who didn't work for DC. When comics site Bleeding Cool published a blind item about the third of those incidents, Berganza reportedly apologized to his superiors and was reprimanded, but not fired. There were no further incidents of assault described in the report, but it says Berganza's "reputation for making offensive jokes or line-crossing comments in the presence of or at the expense of women" made for a hostile work environment.
When approached for comment on Friday, a DC spokesperson declined to speak about specifics, but gave the following statement: "DC and WB are unequivocally committed to cultivating a work environment of dignity and respect, one that is safe and harassment free for all employees. We take all claims of harassment very seriously and investigate them promptly. Employees found in violation of the policies are dealt with swiftly and decisively, and subject to disciplinary actions and consequences."