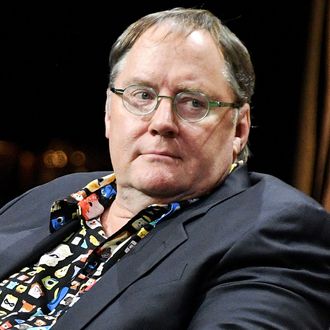 John Lasseter.
Photo: Mike Windle/Getty Images for Vanity Fair
After Pixar and Walt Disney Animation CEO John Lasseter announced that he was taking a six-month "sabbatical" due to unspecified "missteps," reports of his inappropriate sexual behavior around co-workers have started to emerge. In addition to allegations of unwanted physical contact and a "sexist and misogynistic culture" at Pixar reported earlier, Deadline has a new report that indicates that Disney executives may have been well-aware of Lasseter's behavior and developed ways to work around it. One former Pixar executive described Lasseter's obsession with the young character actresses who played "fairies" as part of a Tinker Bell–themed product line. "He was inappropriate with the fairies," the former executive said, noting that Lasseter's behavior often included physical contact and hugs, and that one employee became a designated escort for Lasseter after Disney flew them out for a event in New York. "We had to have someone make sure he wasn't alone with them."
Deadline's story also includes reports of Lasseter displaying similar behavior with female subordinates, and that one instance of him allegedly "passionately kissing" a female employee at a 2010 Miramax party "prompted high-level discussions about Lasseter's conduct." Disney has not made any further statements on Lasseter since the announcement of his leave-taking.