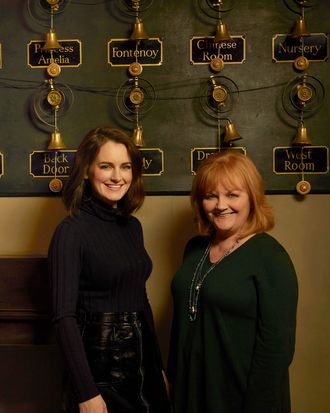 Photo: Rodolfo Martinez/NBCUniversal International
Barefoot Contessa. Chopped. Whatever the hell that Pioneer Woman nonsense is. All of those shows have become defining forces for the Food Network in recent years, but what if the network decided to harken back to simpler, British, post-Edwardian times instead?
That's the prompt we gave Downton Abbey's lovely Sophie McShera and Lesley Nicol at Thursday's Tea at the Plaza event in Manhattan to celebrate Downton Abbey's new exhibition: What would a modern-day cooking show look like if it starred Daisy and Mrs. Patmore? Both agreed, believe it or not, that it would take on the signature style of another popular British chef. "Well, it would be very different because we're not culinary geniuses," Nicol said with a laugh. "It would be marvelous and we would hark back to the olden days, because they're a good team. Mrs. Patmore was a proper cook."
"You wouldn't be able to shout at me if we had a cooking show," McShera quipped back, prompting Nicol to retort: "Gordon Ramsay, I would! I would be yelling just like him!" McShera couldn't disagree. "Yeah," she admitted between sips of Palais des Thés, "you would probably be like Gordon Ramsay." Not that it's a bad thing.