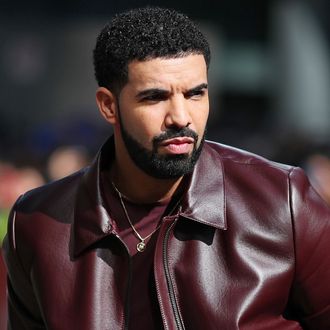 Drake, probably thinking about TV.
Photo: Joe Scarnici/Getty Images
When he's not off making music, performing music, or having far too many emotions in general, Drake prefers to curl up with a nice TV show. Specifically, the British crime drama Top Boy, which aired on Channel 4 in the U.K. for two seasons before ending in 2013. Because Drake is Drake, however, and couldn't let that relationship end, he's decided to bring the show back, partnering with Netflix to create a third season of Top Boy, from the original creative team, that'll air in 2019. According to The Hollywood Reporter, Drake's also looking to expand his entertainment empire in other ways (he's particularly excited about adapting something by Margaret Atwood). What's Drake's taste in TV like, you might wonder? Well, he loves Ozark: "With Ozark, it's just the family dynamic. The arguments. The love. The struggles. I really relate to how accurate it is." Somehow, it is in no way surprising that Drake loves Laura Linney.