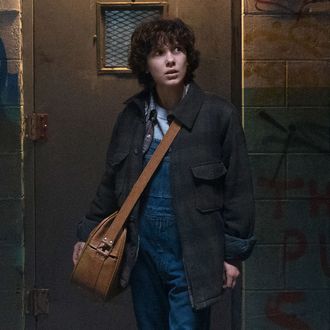 Photo: Tina Rowden/Netflix
If you ask a Stranger Things enthusiast what they thought of season two's recently released "Lost Sister" outing, you'll probably be met with a range of Oh, that was pretty neat to That was some pure punk trash. As the sophomore season's seventh episode, the narrative focused on a standalone Eleven adventure in which she tracks down a fellow Hawkins Lab "sister" named Kali in Chicago, where Kali lives with a merry gang of vigilantes that murders everyone who has wronged her at the lab years prior. As a bottle episode, there was no action in Hawkins despite the mounting tension of the "Demodogs" wreaking havoc in the town, although Eleven gets a sweet makeover before she comes to her senses and leaves.
Well, it seems Stranger Things' creators, the Duffer Brothers, have heard the chorus of huhs and responded to the divisive episode. Speaking with Entertainment Weekly, the duo explained they're particularly proud of "Lost Sister" due to its experimental nature. "It's important for Ross and I to try stuff and not feel like we're doing the same thing over and over again," Matt Duffer explained. "It's almost like doing a whole little other pilot episode in the middle of your season, which is kind of a crazy thing to do." He also added it was necessary for the sake of the story: "Eleven's journey kind of fell apart, like the ending didn't work, without it. So I was like, whether this works or not, we need this building block in here or the whole show is going to collapse. It's not going to end well."
Eleven was even, as Russ Duffer reckoned, just like Luke Skywalker. She did up finding herself in the end, after all.