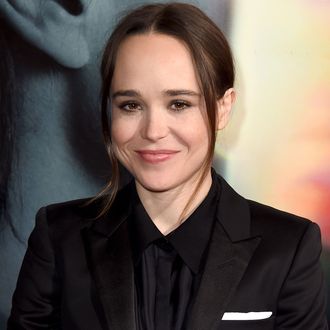 Page.
Photo: Kevin Winter/Getty Images
Actress Ellen Page said in a Facebook post on Friday that her X-Men: The Last Stand director Brett Ratner sexually harassed her and outed her as gay when she was only 18. According to the post, Ratner allegedly pointed to a woman standing next to Page at a cast and crew "meet and greet" before filming began and said, "You should fuck her to make her realize she's gay."
With her post, Page joins actresses Olivia Munn and Natasha Henstridge, among others, in accusing Ratner of unwanted sexual behavior. Page explained that while she knew she was gay at the time, she was not yet publicly out — and felt violated by the exchange. She also claims that she witnessed him harassing other women throughout filming.
This man, who had cast me in the film, started our months of filming at a work event with this horrific, unchallenged plea. He "outed" me with no regard for my well-being, an act we all recognize as homophobic. I proceeded to watch him on set say degrading things to women. I remember a woman walking by the monitor as he made a comment about her "flappy pussy."
Page also says that she was fondled by another director when she was 16, who told her, "You have to make the move, I can't." She continues in the post, "What are we afraid to say and why can't we say it? Women, particularly the most marginalized, are silenced, while powerful abusers can scream as loudly as they want, lie as much as they want and continue to profit through it all."
Update: X-Men: The Last Stand star Anna Paquin has corroborated Page's account of Ratner outing her at a cast meeting during filming. She also explained why she did not speak out about the incident until now.