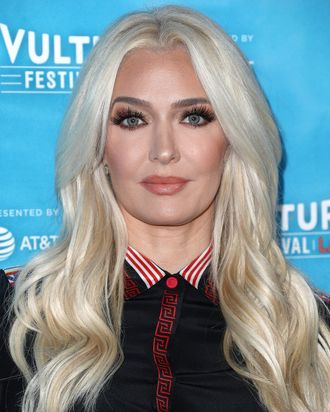 Photo: Frederick M. Brown/Getty Images
Erika Girardi, a.k.a. Erika Jayne, is ready to tell her story, and Vulture's resident Housewives expert Brian J. Moylan is co-authoring the reality-TV queen's upcoming tome, Pretty Mess. She said she wanted to write the book "because it's important to recount your life. It's a great way to tell my story from the horse's mouth, not on TV." The two sat down at Vulture Festival L.A. for a lightning round of questions about her on- and offscreen lives.
The fans packed into the Jet Blue Studio at Vulture Festival let out a gasp when Erika Jayne revealed she'd hung out with RHONY's Dorinda Medley, and an even bigger gasp followed when Erika Jayne shared that they went to the Regency for drinks. "I was in New York, and I got a text from Dorinda asking if I was in town and I said yes," she said. "I hadn't met her, but we all feel like we know each other. She said we had to get together and so we did."
The place where they went to have drinks is now enshrined in every Real Housewives fan's memory: the Regency, home to flirtations, inappropriate dalliances, and infidelities. "We FaceTimed Andy [Cohen] and told him we were going there," she recalled. "He texted me and said I better call him if I saw Tom [D'Agostino] there, but he wasn't there. We walked into the Regency and Dorinda is like a queen bee there. John [Medley's boyfriend] came too. Dorinda is probably one of the nicest, most genuine people. She's really cool. She invited us [Erika Jayne and makeup artist Mikey] for Christmas in the Berkshires. We told her we'd be there." Now there's a Christmas special we'd like to see.