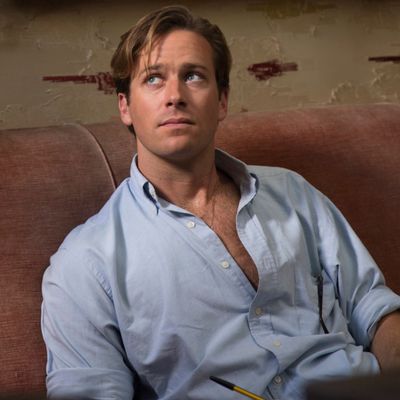 Photo: Stefano Dall'Asta/Sony Pictures Classics
Spoilers ahead for Call Me by Your Name.
Call Me by Your Name is enjoying the year's highest per-screen opening weekend for an independent film. So it was only natural that at last night's 2017 IFP Gotham Awards, where Luca Guadagnino's Italian-summer gay romance also won Best Feature, that talk would turn to peaches. As my colleague Alex Jung has laid out in delicious detail, the movie's most talked-about — and controversial — scene is when Elio (Timothée Chalamet, also a Gotham winner for Breakthrough Performance) looks at a stone fruit he has in hand, realizes it looks like a butt, and enacts a fantasy about his older lover Oliver (Armie Hammer) on it. Meaning: He plucks out the pit, fingers the fruit, masturbates with it, finishes into it, and then falls asleep. When Oliver happens upon the fruit, he does not eat the whole thing, as he does in the book, but instead licks it with desire. The timidity of J. Alfred Prufrock and his love song seems to linger in the air: Do I dare eat a peach?
It's a scene that's pretty hard to forget, least of all for the people who were in it. "I have a visceral feeling every time I see a peach now that flashes me back to Europe," Chalamet told Vulture last night. Heady flashbacks haven't stopped Chalamet from using the peach emoji, though. "I use it all the time," he says. "The fierce inner debate that rages in my head is whether to use the emoji that comes with the phone or whether to download the Kimoji app that has a slightly more graphic rendition of the peach. I'm afraid of using it, though. The young fans of this stuff — are there any? — [might need to be shielded from it]."
Michael Stuhlbarg, who plays Elio's father in the film, can only look at the scene with pride. "I'll always have a soft spot in my heart for the peach now," he said.
Kumail Nanjiani was compelled to give it a year-end superlative. "I'll say that Best Scene Featuring a Fruit is Call Me by Your Name," he told us. Though he and his wife, Emily V. Gordon (also his co-writer on The Big Sick), thought the scene was believable enough without any peach-eating.
Emily: You leave it by your nightstand, because that's what dudes are gonna do.
Kumail: I think he did what you do with it. I mean, I like peaches, but …
Emily: Kumail was grossed out because he doesn't like sticky things. He was like, "It's going all over!"
Kumail: I was like, "It's on his bedsheets and all of this! He's just gonna lay down? He's going to take a nap now? Take a shower, dude!" Just because of the juice. The rest of it, onboard for.
Gotham Awards consensus: Peach fornication is just peachy. But don't be gross — clean up after yourself.