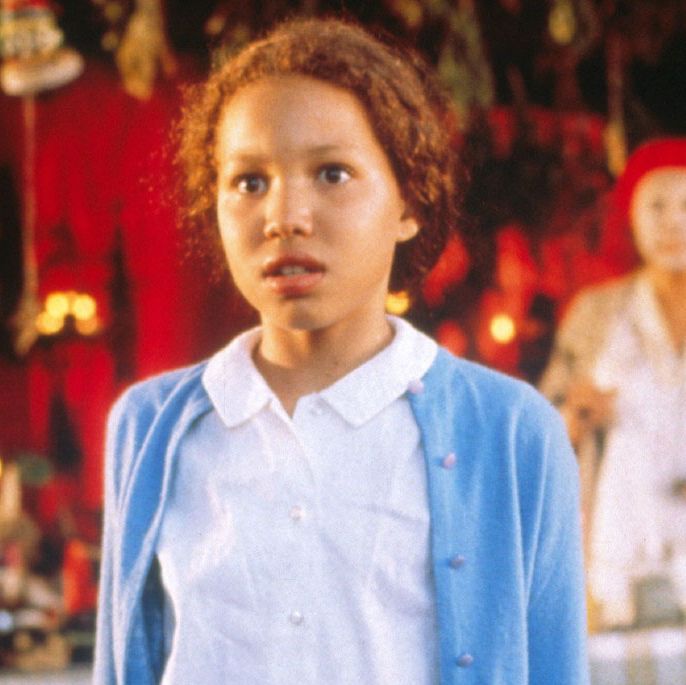 Jurnee Smollett as Eve.
Photo: Trimark Pictures
I don't quite remember the first summer I went to Loreauville, Louisiana. But I distinctly recall the emotions of returning to those acres of land, where my great-grandfather built a home we've called our own for 100 years — awe and glory, love and hope, and a twinge of melancholy. These same emotions take hold whenever I watch Eve's Bayou, the debut of writer-director Kasi Lemmons, which premiered 20 years ago this month and uses rural Louisiana as the setting of its spellbinding tale about a young black girl's adolescence. Perhaps that's why it's the only film my mother and I agree on. Its luxurious textures, melancholy mood, and the Creole that passes the lips of the black characters remind us both, in unique ways, of Loreauville.
The film operates deftly on multiple levels: It's a stunning coming-of-age tale (an exceedingly rare example of one that privileges the experience of young black girls); an honest, hyperspecific portrait of black life in rural Louisiana; and one of the greatest writer-director debuts in American cinematic history. At its core, Eve's Bayou is the story of Eve (Jurnee Smollett), a 10-year-old middle child in a prosperous family, nestled in a Creole community in 1960s rural Louisiana. On the surface, they have a life as perfect as unmarked porcelain. But this facade crumbles when Eve accidentally witnesses her father, Dr. Louis Batiste (Samuel L. Jackson), having sex with a married family friend, Matty Meraux (the always excellent Lisa Nicole Carson). Despite her older sister, Cicely (Meagan Good), insisting that Eve's recollection of this event can't be true, it alters the young girl's understanding of her family irrevocably. The film, like true a southern folk tale, dips into other narratives: her mother, Roz, coming undone by her husband's infidelity; Cicely's obsessive loyalty toward her father and nascent puberty; and the voodoo-practicing Aunt Mozelle (a standout Debbi Morgan), who fears she is cursed because all her past loves have died violently.
Eve's Bayou became the most successful independent film of 1997, playing well to both art-house cinephile crowds and more mainstream moviegoers. Its tender exploration of middle-class black life in rural Louisiana was unique at the time, but it's also indicative of how the 1990s was an exemplary decade for its depictions of the multiplicity of black identity within pop culture. There was the uproarious, feminist-tinged Living Single; the sharp-edged noir Deep Cover; and Star Trek: Deep Space Nine, a sincere meditation on war that offered the most moving depiction of black fatherhood I've witnessed on TV. Like all of these examples, Eve's Bayou is blessedly distinct, even as its influence reverberates through shows like Queen Sugar and Beyoncé's magnum opus, Lemonade.
While Eve's Bayou is a distinctly black film for its evocation of Louisiana culture, it doesn't take interest in discussions of racism or overt political machinations, instead rooting itself in the experiences that occur between black people of this milieu. Lemmons began her career as an actor, with notable turns in Candyman and as Clarice Starling's best friend and fellow FBI recruit in Silence of the Lambs. She held onto her desire to create Eve's Bayou even as she faced obstacles finding funding. When Jackson came onboard as a star and producer, the film finally became a reality. Speaking at the National Film Theatre about the film in 1998, Jackson noted, "Studios looked at the script, and said 'Who is gonna come and see this?' Just because we couldn't put a hip-hop soundtrack on it meant it wasn't going to be Soul Food. Not every story about everyday Afro-Americans is a 'hood' film. In this film, there is no mention of the political climate of the times."
Lemmons's skill goes beyond her dedication to the honesty of the project. Her screenplay, and her filmmaking, show a remarkable handling of tone and mood, weaving together disparate familial experiences and complex subject matter while never forgetting that it's Eve's emotional life that holds everything together.
Lemmons uses Eve's story to probe the uncertainty of memory, the importance of intergenerational bonds, how the images we present are often not the people we are but who we yearn to be, and the importance of folk magic within Creole life. Most important to the story, the film compassionately considers that point in every child's life when they recognize just how human their parents are. Smollett, making her feature film debut, brings an exuberance and tenderness to the character's emotional life. Watching Eve prod her father into truthfulness when she accompanies him along his route caring for local patients, and navigating her mother's icy, perfectly curated demeanor, speaks to the awakening the character is undergoing. Eve's coming-of-age is undergirded by the sense that she's realizing the mortality and tragedies of her parents.
My favorite aspect of the film is how it navigates its thorny thematic territory through the intergenerational bonds of its protagonist. This is acutely apparent in the relationship between Eve and her Aunt Mozelle. Staying beside Mozelle becomes a place of solace for Eve as tensions simmer and her family slowly disintegrates around her. The scene that encapsulates the wonder of Eve's Bayou comes about halfway through the film. Mozelle is gracefully smoking a cigarette while talking to Eve about her past loves. "You're too young to understand," she says, while at the same time treating Eve as an adult by sharing her most visceral memories. Her eyes brim with passion and sorrow, her voice is world-weary yet sultry. As she turns to the mirror, her story comes to life before our eyes, with her past loves appearing in the mirror like ghostly figures conjured from the ether until Mozelle herself walks into this flashback while still narrating to a shocked Eve. The camerawork is astounding, adding to the touches of the fantastical that snake their way through the film. Morgan's performance is rightly considered the strongest for how she carefully mines the melodrama of this tale and grants it more gravitas than any of her co-stars.
In my mind, Lemmons's greatest strength is the delicate performances she's able to draw from her actors. While Samuel L. Jackson is typically associated with the bombastic work he does with other directors, his collaborations with Lemmons, particularly in Eve's Bayou, show how tender and subtle he can be as an actor. Lynn Whitfield's performance as Roz is only more evidence that she should have been an A-list star. She plays Roz with a cool, manicured façade that gives way to a primal scream roiling underneath. And of course, Morgan is the standout. She brings a lush, sultry quality to Mozelle that sits alongside her startling vulnerability, which bubbles to the surface when she falls in love again.
So much of the film's weight as a family drama is also subtly telegraphed in Lemmons's filmmaking. It's evident she went to school for cinematography given the care found in every frame of the film. The rich cinematography by Amy Vincent, careful costume design by Karyn Wagner, and evocative editing by Terilyn A. Shropshire create a marvelous tableau of rural Louisiana life in the 1960s. It's also a remarkably textural experience. The snap of peas in the hands of the Creole-speaking grandmother, the grit in the black-and-white imagery of Mozelle and Eve's visions, the hum of insects, the refined outfits of gold and rust that Roz wears, and the subtle yet gorgeous score by Terence Blanchard create a sumptuous sensory experience. In 2016, I had the pleasure of watching a 35mm director's cut at Ebertfest in Champaign, Illinois, with Kasi Lemmons in the audience. Roger Ebert was a champion of the film when it was released, comparing it to the work of Ingmar Bergman and Tennessee Williams. "For the viewer, it is a reminder that sometimes films can venture into the realms of poetry and dreams," he wrote in his original review.
The film has the rhythm of myth and the visual splendor of a Romanticism-era painting, playing with light and color with such audaciousness, it is amazing it was made on a relatively small budget. What stays with me after all these years are the images of its female characters in liminal states, on the edge of awakenings: Roz's beautiful façade cracking under the pressure of her husband's impropriety; Mozelle's languid repose on a moss-covered knotted tree, reminiscing about the lives she has led; and Eve holding hands with her sister as they look out to the bayou, uncertain about everything in their future save for the fierce love they have for one another.