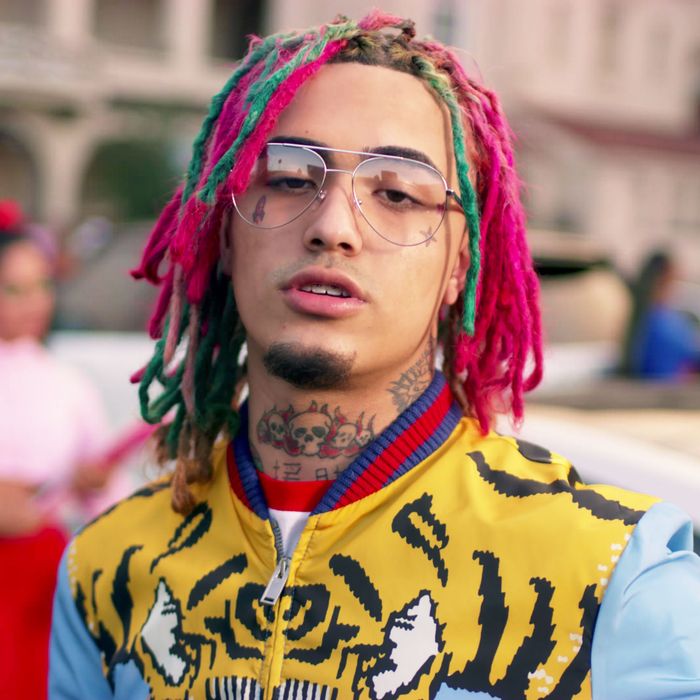 Lil Pump.
Photo: YouTube/Lil pump
Whatever one might think about Lil Pump, it's going to be hard not to think of color. Recognized by his flamboyant wardrobe and brightly dyed dreads, the 16-year-old South Florida rapper has soared into national prominence at alarming speed. Originally powered by SoundCloud streams (more than 50 million and counting over 12 weeks), "Gucci Gang," a cheerfully dark single from his self-titled August mixtape, peaked at No. 7 on the Billboard Hot 100 last week (and hit #3 this week). At an age where most teenagers are struggling with high school, Pump (real name Gazzy Garcia) is living the high life, something underlined by the music video for "Gucci Gang." Though filmed in a high school, it's clear that school is out. A tiger walks the halls. Attendants distribute lean in Styrofoam cups. No adults can be seen. The music video was released four weeks ago. It has been viewed 160 million times.
Pump's gain in stature was an achievement Saturday Night Live commemorated recently by having Chance the Rapper play a parody of Lil Pump in a sketch titled "Rap History." Chastised by the Soul Crush Crew, a pioneering Bronx hip-hop group from 40 years ago, for his outlandish style and his simplistic lyrics about cocaine use, Miami SoundCloud artist Lil Doo Doo ultimately bonds with his old head haters. The reconciliation, it's implied, is rooted in a secret sympathy. Fashions change, but in many ways nothing has changed: the Soul Crush Crew once dressed bizarrely too, rocking Indian headdresses, karate gis, and brooches; their lyrics, too, were nonsensical. And though they didn't ingest cocaine as a suppository like Lil Doo Doo, they did lace their marijuana with smidgeons of crack. It's possible, the sketch suggests, to view the evolution of rap not as a series of radical regressions and sudden breaks, but as something continuous, and continuously weird.
Still, 40 years is a long time; whatever parallels exist between Lil Pump and acts like Grandmaster Flash and the Furious Five are certainly unintended. But as far as direct influence goes regarding Lil Pump and South Florida, there's no shortage of sources. Commentators (as here in the Times) have cited Lil B, Chief Keef, Young Thug, and Lil Uzi Vert as forerunners, but it's evident that the artist with the greatest influence on the new scene is Future. It's not just the relentless references to promethazine and pill ingestion that fill Pump and company's lyrics that were popularized by Future; the aggressive pace, denatured bass, and scuzzy patinas of the production that's defined the South Florida wave were introduced in Future's landmark 2015 album DS2 on tracks like "I Serve the Base" and "Groupies." The connection hasn't been noted, perhaps because those sounds have never recurred in Future's music since; still, it's impossible not to listen to tracks like Pump's "Molly" (five months out, 40 million SoundCloud streams) and then replay "Groupies" and not recognize a powerful resemblance. Subtract a little gun talk from the latter and swap out the elder artist's gravitas for the brashness of someone literally half his age and you arrive at the former.
2017 marked a coming-out year for South Florida: Rappers like Lil Pump, his partner Smokepurpp, Wifisfuneral, Ski Mask the Slump God, and XXXTentacion have exploded from their SoundCloud pages to the point where they can pack midsize venues across the country with frenzied crowds of like-minded youth. For its jagged spirit, abrasive sound, and back-to-basics ethos, the movement's earned highly justified comparisons to punk. One could add song brevity to the list of parallels; a catchy two-minute song gets twice as many streams as a catchy four-minute song when played on repeat for the same period of time. Whether it's song length, album length, or act lifespan, punk has never been a genre known for longevity, and it's uncertain whether the nascent energy of Miami-zone punk rap can sustain itself for long. Turbocharged by social media, artists can rise to relevance faster than ever before, but staying relevant has, by the same token, become exceedingly difficult. As the currents of fashion grow swifter, they become more treacherous as well. Mastering the art of virality and maintaining a cohesive strategy for the future are very different skills, and it's that much harder for an adolescent artist to come up with a long-term vision if their long-term memory's being choked out by oceans of lean, their brain wrinkles relaxed into squiggles by brickloads of Xanax.
It's tempting to look down on punk rap: for its myopia; the way it cultivates thoughtless repetition and flaunts its thoughtlessness; its anarchic inclinations, which regularly lead to violence; the fact that its songs sound better through laptop speakers and earbuds than through speakers and headphones. What could millions of kids see in these artists? But as with anything, condescension is a mistake. Perhaps, in adolescent fashion, these artists and their fans are responding bizarrely to a bizarre world — a world too volatile to plan for, too dumb to merit respect, and too dire to face sober. Depression swallows up a teen; the Atlantic will engulf South Florida. So why not pop a hundred pills? Why not gulp promethazine?