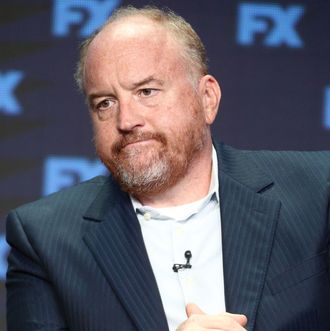 Photo: Frederick M. Brown/Getty Images
Hours after the premiere of his new movie I Love You, Daddy was canceled, a New York Times report details several sexual-misconduct allegations against Louis C.K. In encounters dating back to the late 1990s, five women told the Times the comedian asked if he could masturbate while they were in the room, or masturbated in front of them or during phone calls. After their alleged encounters, two of the women say, C.K. privately apologized for his behavior. Through a representative, C.K. declined to answer any of the Times' questions about the accusations.
Comedians Julia Wolov and Dana Min Goodman told the Times that C.K. invited them to his hotel room after a successful show in Aspen, Colorado, in 2002. Suddenly, he asked if he could take his penis out. The women say he took all of his clothes off and masturbated in front of them, and they fled. In 2003, writer, illustrator, and performer Abby Schachner spoke to C.K. on the phone, when she heard him begin to masturbate. "I definitely wasn't encouraging it," she told the Times. In 2005, comedian Rebecca Corry said she appeared in a television pilot with C.K. that was executive produced by Courteney Cox and David Arquette. Corry told the Times C.K. asked if he could masturbate in front of her. She declined, but made Cox aware of the incident. "What happened to Rebecca on that set was awful," Cox wrote in an email to the paper. A fifth woman, whose story was included anonymously, said she was in her early 20s and working on The Chris Rock Show in the late '90s when C.K., a writer and producer on the show, repeatedly asked her to watch him masturbate and she agreed, because of the workplace culture.
On at least two occasions, according to the Times, C.K. contacted the women after the alleged incidents to apologize. Six years after their phone call, Schachner said she received an apologetic Facebook message from Louis C.K., saying that the call ended in a "sordid fashion." After Defamer posted rumors alluding to C.K.'s history of sexual misconduct, Corry said C.K. reached out to her, too: He apologized for an incident that never happened — shoving her into a bathroom — instead of their encounter on the TV pilot. Corry told the Times that the way he misremembered the incident made her think he had a longer history of misconduct. Wolov and Goodman never received an apology, but said they felt bullied by C.K.'s powerful manager Dave Becky — who represents Kevin Hart, Aziz Ansari, and Amy Poehler, among others — to stop discussing the alleged incident in the Aspen hotel room. Becky denied that he threatened the women.
Vulture has reached out to FX, which works with C.K. on his show Louie, for comment. We will update this post if we hear back.