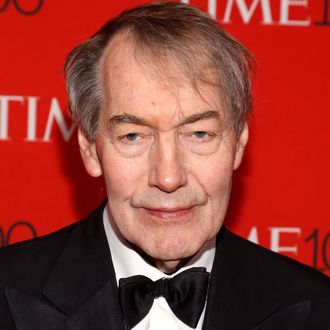 Rose.
Photo: Taylor Hill/FilmMagic
Just a day after Charlie Rose was fired from CBS News over sexual misconduct allegations, another woman has come forward accusing the former news anchor of sexual harassment.
According to NBC News, Sarah Gordon, who was an intern for Charlie Rose, said that Rose allegedly forced her to watch a sexually explicit scene from the movie Secretary when she worked for his show in 2002.
The incident occurred, Gordon said, when she was delivering mail to Rose at his apartment one day. "I proceeded to go into the living room, and he said, I want to show you this scene from this movie and he said have a seat, you know, relax, and he proceeded to turn on the film Secretary, which is a sexually involved film involving S&M, unfortunately," she told NBC News.
"He asked me, 'How does this make you feel?'" Gordon continued. "I did not run, but I [was] just like, 'Oh, okay. Well, I guess some people are really into this and I'm not.'"
After a while, Gordon changed the subject, asked Rose if he needed her to bring anything back to the office, and then left the apartment.
Gordon said that the entire interaction lasted about 20 minutes, and that Rose did not touch her at any point.